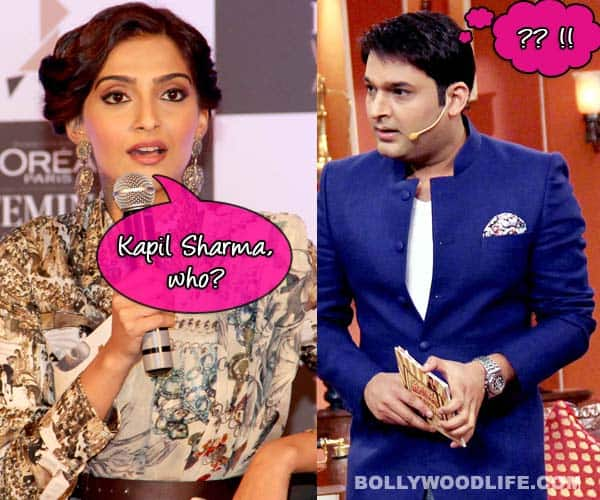 The Bewakoofiyaan actors met us for a candid chat at the Yash Raj studios and her co-star, Ayushmann Khurrana, divulged this funny secret about her
Kapil Sharma maybe famous among Indians across the globe, but he sure was not recognised by our very own fashionista Sonam Kapoor. At a recent press meet her Bewakoofiyaan co-star, Ayushmann Khurrana, informed us about a funny incident that happened a few days back.
As it is a common practice nowadays, that every film actor comes to the Colors' hit show Comedy Nights With Kapil for the promotion of their upcoming films; Bewakoofiyaan too was no different. The lead pair was informed a week or so before the shooting of the episode for Kapil Sharma's show. To everyone's surprise, Sonam asked, "Kapil Sharma, who?" The whole cast and crew of the film was dumbstruck on hearing this from Anil Kapoor's beti. They couldn't believe that she didn't know at all about the TV show. Ayushmann and Nupur Asthana, the director, after having a hearty laugh, informed Sonam about the show and who Kapil Sharma was. Sonam in her defense said, "I don't watch serials on TV. However, I do watch many soap operas on my laptop after buying their DVDs."
But Ayushmann and Nupur were not someone who could be stopped by that explanation and the two kept on pulling her leg about the same at every possible occasion. After Ayushmann's vivid and comic explanation of the episode Sonam once again cleared the airs and concluded by saying, "So what if I didn't know him from before, I got to watch him live!"
Looking at the popularity of the TV show we could not imagine anyone unaware of the phenomenon called Kapil Sharma. But what to do now, wethinks Sonam would always be the pretty face with not so sharper grey matter (Wink, wink). What do you think BollywoodLifers?
Also read:
Sonam Kapoor: Wearing a bikini is not at all a big deal for me!
Ayushmann Khurrana: I will never be jobless!