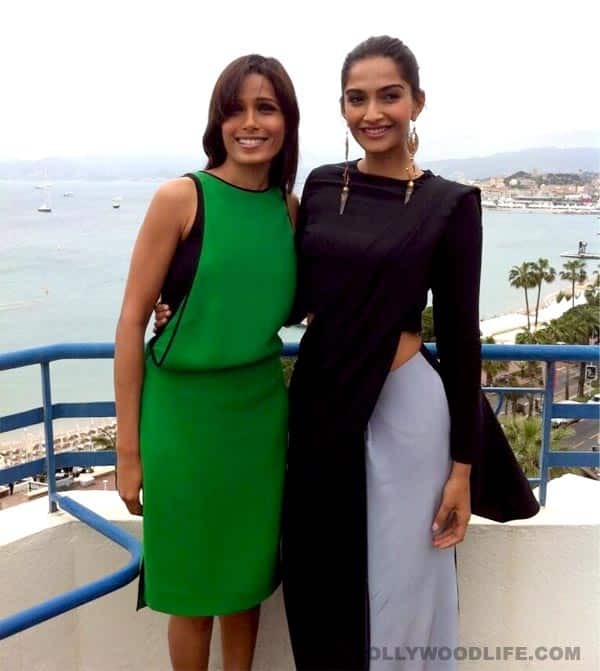 The Slumdog Millionaire babe was all set to make a thrilling Bollywood debut with Navdeep Singh's NH10, but now she is likely to be replaced by her Cannes Interntional Film Festival red carpet mate, Sonam Kapoor
Freida Pinto left a lasting impression with her Hollywood debut Slumdog Millionaire, directed by Danny Boyle. Since then she has worked with acclaimed international directors like Woody Allen and Rupert Wyatt. However, the one thing she has been  eagerly looking forward to is making a debut in Bollywood. Ms Pinto was finalised to play the lead in Phantom Productions NH10. The film was supposed to go on the floors in March, but things didn't materialise the way they should have and the shooting schedule was delayed twice. Freida finally opted out and buzz is that the makers of the film have approached Freida's 'good friend' Sonam Kapoor for the role.
The Bollywood fashionista and the Hollywood babe raised quite a few eyebrows when they bonded big time at the Festival De Cannes 2013. Both  beauties were more than happy to pose for the shutterbugs with their arms around each others' waists! After looking at their camaraderie, we certainly thought it was a myth that two women can't be friends.
While the two lovely ladies had a gala time giving interviews, posing for the cameras and discussing fashion, we aren't sure if they discussed their Bollywood careers. Had that been the case, the two chicas wouldn't have formed a mutual admiration society towards each other, wethinks. It's quite ironic how things have unfolded for the two girls. Frieda opts out of NH10, goes off to Cannes, befriends Bollywood starlet Sonam and, by the time they get back to their routine, news about Sonam replacing Freida is flashed all over. We won't be surprised if there is a catfight between the two 'friends'!
Bollywood doesn't see you in a good light if you replace a so-called friend in a film. Even though Sonam hasn't confirmed singing on to do NH10, wethinks her accepting the offer would make her a bit of an opportunist in many folks' opinion. And her friendship with Frieda could go kaput. But then…. Kuch paane ke liye kuch khona padta hai!