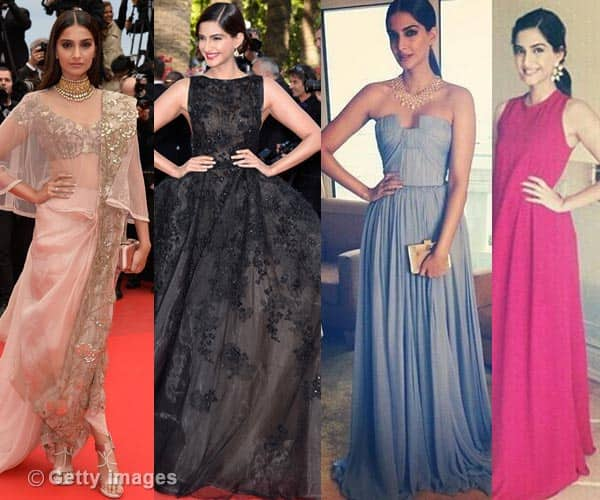 skip advertisement
She made heads turn with her first appearance at the red carpet of the 67th Cannes Film Festival. Read on to find out what her next look was like…
Sonam Kapoor is the reigning fashion queen of Bollywood and she gets to be that way because of her innate sense of great style. Upping the glamour quotient at the 67th Cannes International Film Festival and upholding Indian grace at the international platform, L'Oreal's brand ambassador stole the hearts of her fans at the red carpet yet again.
Anil Kapoor's beti made her second red carpet appearance in an Anamika Khanna saree but, of course, with a trendy twist. She didn't drape it in a conventional fashion; she didn't make pleats and showed off the ornate broad border of the pale pink saree. She paired the saree with open hair, a chunky neck piece and a Ferragamo clutch. Sonam nailed the look in Anamika Khanna's coveted six yards and beat her own previous appearance at The Great Gatsby screening last year.
It is not just us who can't stop raving about Sonam's second Cannes appearance, she has found a new fan of her fashion sense in the Kick actor Jacqueline Fernandez who instagrammed a picture of Sonam in the lovely saree and captioned it as Goddess! Well, we cannot agree more.
For the Chopard party later in the evening, Sonam wore another Elie Saab gown, less flamboyant this time yet equally regal. The lilac strapless couture gown highlighted Sonam's class and she reiterated her mantra of keeping it simple by teaming up her outfit with a Chopard neckpiece and yet another Ferragamo clutch. She didn't do her tresses in an elaborate bun, rather she opted for a tight pony.
Finally for a photoshoot, Sonam donned another Elie Saab outfit which honestly wasn't at par with the rest of her attires so far. Though we were impressed by the flower cut-out earrings, the gown failed to have a similar effect as her previous looks. Sonam wore the floor-length red gown with a lace back and finished her look with a low pony. The fashionista's look for the photoshoot was the most mediocre when compared to all her appearances at the 67th Cannes Film Festival.
The Masakkali of Bollywood had walked with swagger in a gorgeous black Ellie Saab gown at the red carpet in her first appearance, at the screening of The Homesman. The classic-cut voluminous couture gown made Sonam look like an ethereal vintage beauty from the past. Had Vivian Leigh been around she most certainly would have held a grudge against our lovely desi dame!
We give Sonam a 9 on 10 for her collective fashionable appearances at this year's Cannes festival. If only Sonam's acting talent matched her style quotient, she would have been an unstoppable force in Bollywood. Alas! We can't have the best of both worlds. We can only continue to hope for an improvement in the Ranjhanaa actor's performing skills or secretly hope for her to go all out in the fashion world and quit her acting job for good. What do you think Bollywoodlifers?