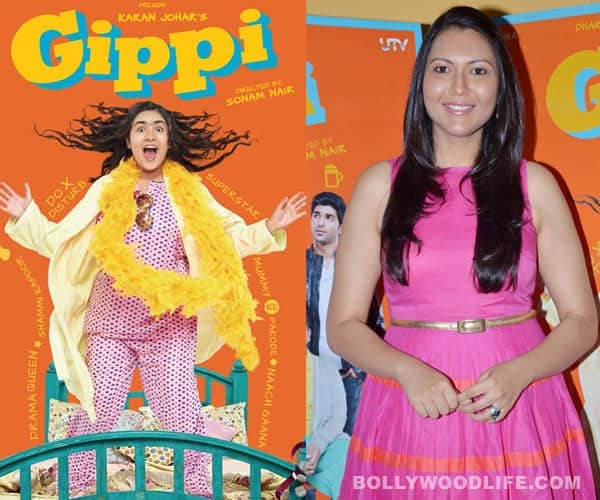 The director of Gippi tells us what got her going to make this kiddie flick, about the tedious auditioning process and the need for aesthetics in a typical Dharma production 
Sonam Nair never had hardcore plans for entering the film world. Brought up in Kolkata, studied in America and now working in Mumbai,  she sported a very Delhi style that pleasantly surprised us – a kurti teamed with a bright stole, kohl-rimmed eyes and an extremely chilled out personality…that was our first observation. She flashes a grin – a mix of satisfaction and achievement – when she says that she completed the film in 45 days and describes how she convinced Karan Johar to get Vishal-Shekhar to compose the songs. She wanted to get the music right, and no, don't expect clichéd children's tracks. "Even kids these days listen to the same music that we do, yaar," she justifies her action of getting the famous crooning composers on board.
Young and vibrant, there's nothing 'I- am- so-intellectual' about her. We met her expecting a long list of la-di-da world movies she'd boast about, but what we got was an amazingly cool confab…
We hear Gippi is based on your life story…
Well ya, almost…I thought whatever has taken place in my life when I was 13-14 years old I should go ahead and write about and let's see if Karan Johar likes it. I had worked with Ayan (Mukerji) on Wake Up Sid  and I knew him a long time since we are family friends. So I gave the script to him and he passed it on to Karan.
How did filmmaking happen?
I pursued my filmmaking course from college in Ithaca in the US and also did a couple of odd jobs there, like assisting in the casting and administrative departments. But I had enough of it and got into Bollywood by assisting Ayan. When I started working on Wake Up Sid, I got so involved, that filmmaking became a passion.
Was it difficult to convince KJo?
Not at all! He read the script and he knew since I have literally lived the film, I am the apt one to direct it. The script reminded Karan of his own childhood. Whoever has read it has been able to relate to it – if not Gippi, then the other characters. And since Karan also had weight issues and had a complex about it, he could instantly relate to it. Karan always reads scripts at his own leisure, but he finished reading mine pretty fast. And since it is not exactly a big budget film, KJo was willing to take a risk.
Tell us something about the auditioning process; we hear y'all scouted quite a bit…
We must have auditioned at least 30,000 kids in Mumbai and Delhi. We wandered from school to school. When we reached Riya's school, they refused us to audition her, but we somehow found her mother and got in touch with her.
What was special about Riya?
She reminds me of myself and whoever has seen the film says that she is a lot like me. Her features truly make you fall in love with her. When you are 14 or 15, the innocence starts fading, but it's intact in her. And also she doesn't act; she says her lines very naturally. I had to literally push her, especially in the songs, to be a li'l over the top.
There are no films that deal with the issues of female adolescents….
Ya, but it is so interesting to portray what happens in a girl's life. Maybe people are slightly hesitant to highlight such issues, even though these are normal things – like getting your period or shopping for your first bra – every young woman goes through it, but people are simply uncomfortable showing it onscreen. This is the most fun age ever!
Obviously directing this one was  easy for you, since it was virtually your own life's story, but in the future, if you have to deal with some other subject and genre, will you be able to do equal justice to it?
That's true, I worry about it too. But there needs to be some personal touch. I don't think I can make a superhero film. I am not comfortable making films I don't relate to. I want to make films dealing with issues that happen to real people.
Does Gippi has any purpose?
We are trying to break stereotypes. And if you see the very small number of people who are perfectly beautiful and attractive from head to toe, what about the others? We are just so tired of reading magazines and newspapers and seeing perfect people all the time and in that process you wonder, where do you even stand! In this film you can see yourself onscreen.
As a female director, will you have to fight your way into Bollywood to make more films in the future?
I have had a dream launch. It's a female film. I didn't have to struggle to get the film, or to get it approved.  If the film is a success, I don't think I'll have to struggle at all.
Who do you want to work with?
I want to work with younger people like Parineeti Chopra, Alia Bhatt and Arjun Kapoor. I like the new lot. And I also have a couple of ideas, but Karan has to approve them.
What are the mistakes you are not going to make in your second film?
I think I will make sure that in my second film I get a few experienced actors on board. It gets very difficult to manage a set of actors who are new to everything. For the first film, I had all the energy and the enthusiasm to do so, but to do it again….I don't think I have the patience.
Recent direction that really inspired you….
I was really impressed with the way Udaan was made.
What did you absorb while working with Ayan (Mukerji)?
I have learnt everything from Ayan. I have also worked with Vishal Bhardwaj in Saat Khoon Maaf. But Ayan has set the foundation for me. From Vishal sir, I would just watch and learn, but my film is more like Ayan's Wake Up Sid, and those are the kind of films I want to make in the future.
First female director in Dharma productions – how does that feel?
I am really comfortable with Dharma. I don't feel like I am the only girl among the boys. It's a very friendly equation with everyone around – this is my comfort zone.
You think we need more female directors?
It will be great if we get more female directors. The stories will be a li'l different. I am not saying that every woman has to make woman oriented films. Zoya (Akhtar) made a ZNMD, but it would had been different if a guy had made it. There's some sort of a beauty in the film 'coz Zoya has made it. Farah Khan is the hardcore commercial filmmaker. She's making superhit films back to back. Gauri Shinde made such a beautiful film. I am glad that I will be joining such a talented pool of directors. I don't want to sound condescending, but ten years ago women were only making arty-farty films on villages and rape.
Was there any pressure for your film to have that larger-than-life Dharma Productions flavour?
Karan didn't put any pressure on me to make the film in a certain way. He doesn't know how to make a realistic film. But I wanted to add a tinge of Dharma flavour to it. So I had that at the back of my head. I didn't want a Dharma film to look unaesthetic. And women are into aesthetics, so it came easy for me.