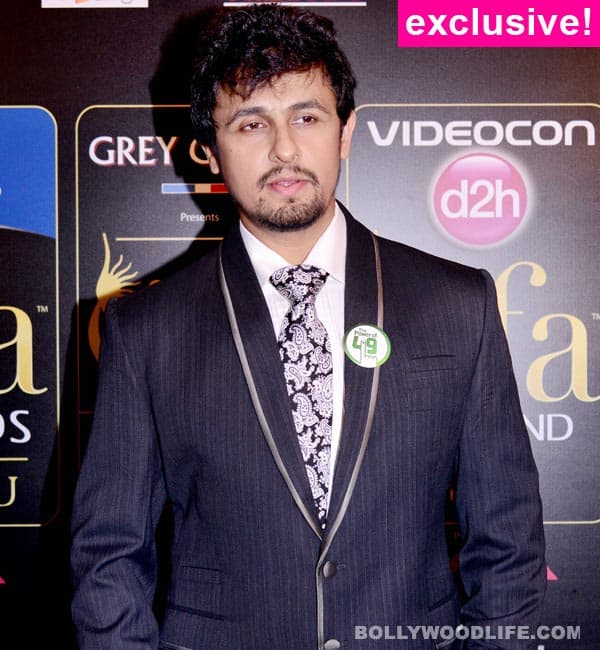 Sonu Nigam turns 40 today. In an exclusive interview with BollywoodLife the singer talked about various issues close to his heart. Read on to know how this extraordinarily gifted musician continues to mesmerise fans with his magical voice
Born on July 30, 1973, Sonu Nigam is one of the rarest talents Bollywood has seen and heard. After singing for some of the biggest stars of his era, Sonu shocked everyone a few years ago when he stated that he was going to slowly retire from playback singing.
This year Sonu bagged almost all the awards available for his melodious number Abhi mujh mein kahi in Dharma Production's Hrithik Roshan starrer Agneepath. Sonu surprised us yet again with the peppy Har ek friend kameena hota hain from Chashme Baddoor. And just when we were waiting for a mushy romantic number from the blessed singer, Sonu gave us Pyar tera song in the recently released Luv U Soniyo. We caught up with Sonu recently and asked him if he is out of his sabbatical now. And we also demanded, why does he not sing more often these days? "We have only one life. I don't want to waste my life doing only one thing, like a mundane routine. I want to travel the world. I like to be alone sometimes. I love doing concerts too. I like to spend time with my family. I like to work out and keep myself fit. I don't think I can do all these things once I turn 60. I don't want to regret that I wasted my entire life doing only one thing: singing. I have done enough and I think I want to keep it exclusive and do other things with an equal amount of interest and enthusiasm. So I try to do as many things as possible," said Sonu.
And with another birthday comes another new chapter. This year Sonu will wear the hat of a music composer. How did this switch happen? "I never thought of composing songs for any movie. I had composed music for my album Chanda ki doli. So people came to me asking if I would like to compose music for their films and I said why not. There is a film called Jal for which I have composed music with Bikram Ghosh. Then there is a supernatural flick for which I have composed, as well as for a movie called Singh Sahib The Great," explained Sonu.
In his career spanning more than two decades Sonu has sung many award winning songs for which received tremendous love, praise and recognition. The exceptional singer feels that he's blessed and could not have asked for anything more or better. But how does he keep his audiences mesmerised with the voice that has become more refined over every passing year? "I practice. I do my riyaaz regularly, without fail. You may pull off all the gimmicks in the world, but if you don't deliver, you will be thrown out automatically. Though I don't sing as much as I used to – there was a time when I would sing six or seven songs in a day – I am as excited about singing a song as I was 22 years ago," insisted the star singer.
We at BollywoodLife congratulate Sonu Nigam on turning 40 and look forward to more songs that we will cherish forever!