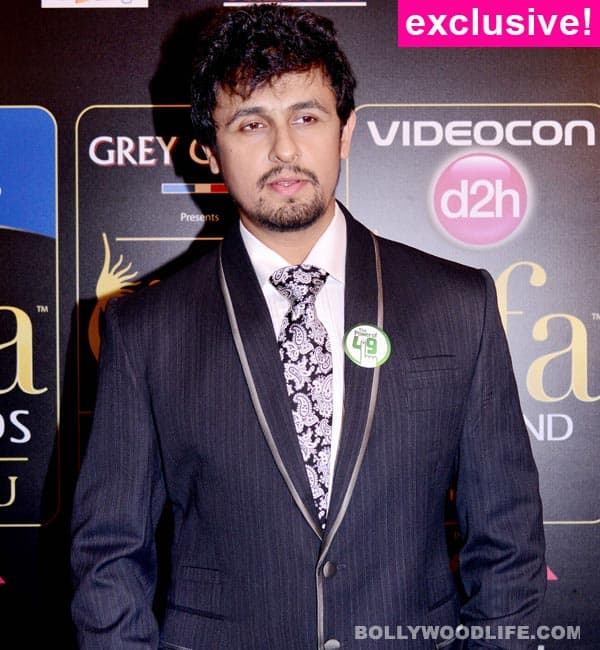 The versatile singer opened up exclusively to BollywoodLife and discussed various issues occupying his creative mind
Considered to be one of India's best singers of all time, Sonu Nigam has been making music for the past 22 years. The 39-year-old good looking music-man feels that he's blessed to have contributed to the industry with so many memorable numbers. We met Sonu on a rainy afternoon to find out what keeps him busy these days, how Bollywood music has changed in the past decade and why he's not seen judging reality shows any more…
After singing for A-listers in Bollywood you have chosen to do a song for a small budget movie called Love You Soniyo with absolutely unknown actors…why?
Nobody knows who will become what in the future. I have sung many songs for newcomers. Some actors have become stars, some haven't. So I don't differentiate between stars and newcomers. As long as the song and its composition is good, I say yes. I sang Is pyar ko main kya naam doon. It was for Tusshar Kapoor's debut film. But even today I sing that song to some great reactions whenever I do concerts. So you may never know which song can become a sensation. All you can do is to try and give your best shot every time.
What is the best part about singing for Bollywoood stars?
Interestingly, Bollywood is the only industry where films and songs are interlinked. Bahar jo gata hain, wohi dikhta hain. Rihanna, Whitney Houston and Michael Jackson never sang for any actor. I think a song should be accepted for its lyrical quality and its music and not for the actor it is sung for. Sadly, here in India, just because an actor is very popular, no matter what he lip syncs, every track becomes a rage. But the best part is that a song can become popular very easily if it is picturised on a big star.
Do you think that singers don't get the attention they deserve?
I think the media is predominantly responsible for why people don't want to discuss music, musicians or singers. The media wants to discuss only cricketers or actors. Who's wearing what. Which actor is hanging around with whom. These things are discussed and written about everywhere. Even radio jockeys talk only about movies and the actors on which songs are picturised. Rarely do they mention who has composed the number and the singer who has sung the song. Today, singers are not called to the music launch, which is ridiculous. Farhan Akhtar sings himself, but he did not bother to give credit to the singers in his own film (Don).
What issues is the music industry dealing with?
Today there are many software programmes available in the market that can make anybody's voice melodious, which is a huge concern. But that can be dealt with, because originality and versatility cannot go unnoticed. But the real issue is that people don't want to talk about singers. I know what Neha Dhupia is doing. I know what Celina Jaitley is doing or, for that matter, which party Virat Kohli is attending. But I don't know what Suinidhi Chauhan is up to or which song Sherya Ghoshal is doing next. And that saddens me.
Reality shows bring many talents from various corners of the country to the fore. But very few singers get opportunities to sing for Bollywood movies…
It depends on the individual and his journey. Everything cannot be served readily on a platter. Reality shows can bring some potential talent into the public domain. But after that it is the talent, perseverance and vision of the individual that helps him or her chart a path to victory. I remember how Shreya Ghoshal would go from one producer to another after her stint with Sa Re Ga Ma. Even after singing for Sanjay Leela Bhansali's Devdas she would go to music producers and composers to make herself known in the industry. Same goes for Sunidhi Chauhan. It's the perseverance that counts. But in spite of that, some people make it, many don't.
So do really shows really launch talents?
Yes, they do. What is also happening because of these reality shows is that the talent is seen directly. So there is a very little scope for cheating. Also, you get various concerts and shows through these platforms. Toh rozi roti ke liye bhatakana nahi padta. There are many singers I see these days who have not sung a single song in the movies, but they own plush cars and live a fabulous life. It is all possible because of the shows we do. But it all depends on you and your individual struggle.
Tell us about your struggle to reach the top. What lessons can today's aspiring singers learn from it?
When I was struggling, I remember main subah se hee music director ke office jaake baith jaata tha, ki aap aao aur miujhe suno. I used to spend seven to eight hours without food and water at the recording studios and hope that someone would listen to me one day. And you cannot become tired of it. If you are passionate about it, it won't tire you. Also once you start getting recognition, you can't become complacent. I don't have a godfather. So I had to make my own path and face the challenges on my own.
You have been singing for over two decades now. How do you keep the interest level and energy up without being complacent?
I practice. I do my riyaaz regularly, without fail. You may pull off all the gimmicks in the world, but if you don't deliver, you will be thrown out automatically. Though I don't sing as much as I used to – there was a time when I would sing six or seven songs in a day – I am as excited about singing a song as I was 22 years ago.
You tried your hand at acting, but it did not work out….
Since I am not a star kid, there was nobody around to tell me that my debut film Love In Nepal was ridiculous. Nobody guided me and told me how to go about it. Wahan par hum logon ko kaccha khana pada. During my struggle as a singer I met many people, good and bad. Some guided me and some were really badtameez. But what counts in the end is your struggle and how you achieve your goal. You have to be in constant touch with the industry people, you have to see what's happening around you. You have to make yourself visible on various platforms. It is a combination of many things. I think I was the one who belled the cat and paid the price for it. Today there are many singers who act too.
There was talk that Sonu Nigam was on a sabbatical. Is that true?
We have only one life. I don't want to waste my life doing only one thing, like a mundane routine. I want to travel the world. I like to be alone sometimes. I love doing concerts too. I like to spend time with my family. I like to work out and keep myself fit. I don't think I can do all these things once I turn 60. I don't want to regret that I wasted my entire life doing only one thing: singing. I have done enough and I think I want to keep it exclusive and do other things with an equal amount of interest and enthusiasm. So I try to do as many things as possible.
What keeps you occupied these days?
I am doing music for four movies. My album with Bikram Ghosh is coming up. Bikram is a super percussionist. There's one more album coming up with Universal Music. I am doing more concerts these days. Plus, I love to keep myself fit. And sometimes I like to party (laughs)!
Is Sonu Nigam not interested in reality shows any more?
Not really. I did X Factor last. You have been watching me on Indian Idol for quite some time now. In fact, jitney bhi reality shows aate hain, sab mere hee darwaje se hokar jaate hain.
Has the business of music changed in the last decade?
Yes, it has changed dramatically. Things have become more corporatised. But when you try to focus only on the business part of any art form, you lose the personal touch and its charm.
You said in recent interviews that the so called thehraav that was there in old songs is not there any more in current compositions. Will the picture change for the better in the days to come?
Music follows no pattern. It all depends on the composer and the film director. It depends on what he or she exactly wants. If you just want to create something for the sake of selling, then that music will not be great in the end. So if you think that in a couple of years all the songs will have the thehraav and taal – that's not going to happen!
Tell us about your new role as a music composer…
Well, I never thought of composing songs for any movie. I had composed music for my album Chanda ki doli. So people came to me asking if I would like to compose music for their films and I said why not. There is a film called Jal for which I have composed music with Bikram Ghosh. Then there is a supernatural flick for which I have composed, as well as for a movie called Singh Sahib The Great.
Today new music composers like Amit Trivedi and Amitabh Bhattacharya are functioning both as composers and singers. Is that perceived as a threat for trained singers?
There's nothing wrong with it. Today people love to multitask.
Do you feel that songs are now written and composed keeping the business potential of the concerts and shows in mind?
Not really. Singers like Nitin Mukesh and Usha Uthup have not sung many popular song in the past two years, but they rock concerts and music shows. Sab performance ki baat hain.
Is Sonu Nigam getting the work of his choice?
Yes I am. God has given me so much. I think I am a blessed one.