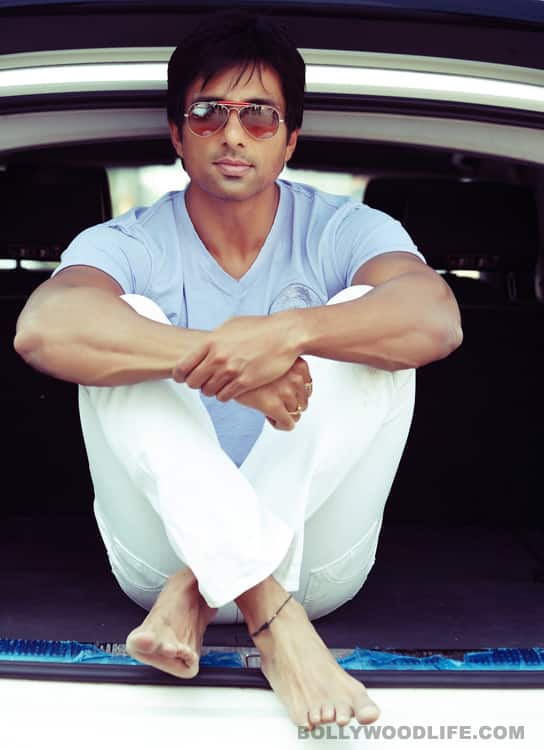 Every once in a while the South star makes a bright appearance (Yuva, Jodha Akbar and Dabangg) in Hindi films, but now he is going to make his presence felt in Bollywood with a bigger role – as a producer. In a quick chat Sonu Sood talks about his maiden venture and chinwag surrounding the much-awaited Dabangg 2
Unlike a lot of B-Town actors Sonu Sood is an easy and friendly guy to approach. An SMS is all it takes for a tete-a-tete with him. Even if it means entertaining queries soon after he has landed on Mumbai tarmac, the engineer-turned-actor is happy to accommodate. Because of his flourishing and – for the lack of a better word – bigger (in terms of roles) career in Telugu and Tamil films requires him to travel often between the hub of Hindi and South films.
After a quick hi and hello over the phone, we move on to the developments in his life. First is the unlimited hullabaloo surrounding the sequel of his last Hindi superhit, Dabangg. According to the grapevine, Sonu didn't want to play second fiddle to Singham-fame Prakash Raj who is the new villain in Dabangg 2. "Arbaaz and I mutually felt that since the part of the twin brother of Cheddi Singh wasn't shaping up as expected, we should not try to take it forward," he explains. "I feel the role had to be bigger and double of what it was in the original, otherwise there was no fun in having him."
However, that hasn't soured his rapport with the Khans. He says, "It was a mutual thing. They are like my family. Everything is fine." For now we believe it, but only time will unravel the truth – whether or not the Khans are upset with Sonu's walk-out. And soon Osthe, the Tamil version of Dabangg where he plays Cheddi Singh's part again, hits the cinema halls.
So Sonu can go on grinning. And now he has one more reason. The engineer-turned-actor is turning producer. The film is called Lucky Unlucky and Mallika Sherawat and he play an unconventional couple. "This was an unplanned call to get into production. Afzal Rizvi (brother of Anusha Rizvi who directed Peepli Live) came to me with this script he had written over three or four years. Since I wanted to get into other creative departments of filmmaking and I liked his script, I thought why not produce it," Sonu states matter-of-factly.
Ask him to reveal a little more about his first production and he is willing. "Lucky Unlucky is a road film. We travel through most of the north: Delhi, Punjab Haryana and Uttar Pradesh. It is about two people from different segments who come together." An odd couple (read two extremely different personalities) thrown together in a rural Indian mileu – doesn't it sound familiar? Remember Lara Dutta's first production Chalo Dilli? After a pause Sonu replies, "It's different from Lara's film. This is more on the culture of Delhi and Haryana, the Jat culture, and people who are bindaas types. You will know what I saying when you watch it."
If things go well, we may also get to watch the sensuous Mallika shake booty with hunky Sonu for the Hindi version of the Tamil song Appadi Podu, an unexpected hit among Indians and music aficionados from all languages and backgrounds. Coincidentally, Sonu and his dear friend Akshay Kumar have been vying for the remake rights of the Tamil song. While the first time producer is almost ready to record the Hindi version, he is in no mood to rage a battle in court for it. He says, "There is some kind of confusion, but we will sort it out. I am not here to fight legal battles. Whoever gets it, Akshay or me, it doesn't matter."
For now, Sonu has bigger worries to deal with for his maiden venture. On the one hand he is putting together the team for the film and, on the other at a more personal level he is racking his brains over his look for Lucky Unlucky. Being a model, Sonu always possessed a good and fit body and even dared to bare his abs opposite the original six-packer Salman Khan in Dabangg. And since heroines showing cleavage and sporting bikinis has become passé, it's up to the men to hike up the oomph level in films! So Sonu is losing sleep over what next for him. Can we suggest – maybe eight-packs? Or if he is mood for some fun, how about flashing his derriere just a bit, like John Abraham did in Dostana? Now that will definitely give a big push to his slow and steady career in Hindi films.