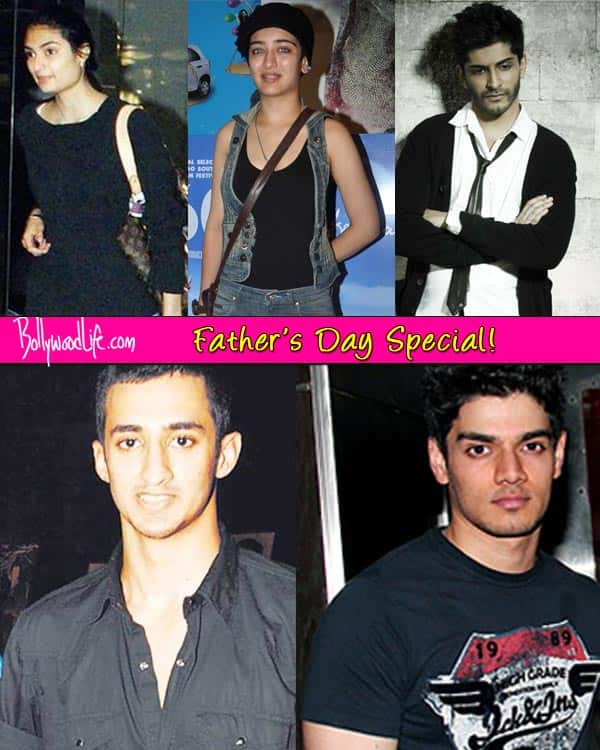 skip advertisement
Ranbir Kapoor, Sonam Kapoor, Hrithik Roshan became some of the most popular actors to have followed into their fathers' footsteps. Today is Father's Day and we wish to look at the the young lot of debutante actors who are about to make their respective grand entries into Bollywood and will be carrying on the Bollywood tradition of "Like Father Like Son" (in this case daughter as well).
Athiya Shetty:
She is getting launched by Salman Khan opposite Sooraj Pancholi in Hero but her father Suniel Shetty is petrified about her little girl entering the world of glitz and glamour. Not that Athiya's daddy isn't confident about her daughter's skills as an actor, but the feeling of letting a piece of your heart go out in the world alone is a scary one for any father. To comfort Suniel, Salman has promised to take care of Athiya and will see to her big launch being carried out smoothly. So much for a father's love!
Sooraj Pancholi
He will be reprising Jackie Shroff's role from Ghai's hit film Hero in Nikhil Advani's remake of the film and he has found a mentor in Salman Khan who is leaving no stone unturned to give the young newcomer the perfect launch-pad. But before making an entry into films, Sooraj was surrounded with controversies as his actor girlfriend Jiah Khan committed suicide and blamed him for her breakdown in her suicide note. Things got out of hand for the Pancholi family but Sooraj's father Aditya stood by him through thick and thin, supporting him through his court hearings and making statements for the cameras. With his father's backing, Sooraj managed to stand back on his own two feet and move past the incident.
Harshvardhan Kapoor:
We heard that this star-kid is a method actor. Now we aren't sure if he gets it from his star father Anil Kapoor or he is gearing up for his Bollywood debut in Mirza Sahibaan with full force. The handsome newbie was recently snapped riding a horse and the paparazzi went gaga over the Kapoor lad. Even his sister Sonam Kapoor can't stop proclaiming her love for him and says the he is the best brother one can ask for. We'd say that Harsh has gotten the best father one can ask for. When there are actors like Ranveer Singh actively declaring that the 24 actor is their role-model it would be hard to imagine the pressure Harsh must be under, that of performing in his father's shadow and outdoing him.
Akshara Hassan:
Kamal Hassan's daughter will be debuting opposite Dhanush in Balki's Shamitabh and will also share screen space with Big B in the film. Akshara bears a striking resemblance to her sister and mother yet she has something tom-boyish about her that both the ladies don't possess. Perhaps she gets her boyish charm from her father who was and continues to be a heartthrob for millions! She isn't as glamourous as her sister Shruti is but that's likely to change once she appears on the silver-screen!
Chiranjeevi:
We wonder if this youngster will be following exactly into the footsteps of his father or not but we have news that his daddy Ranjeet, the evergreen baddie of the '80s has approached Sajid Nadiadwala will help him make a starry entry into films likeTiger Shroff did. The actor is young and unpolished for now but we expect that Ranjeet will be investing time into sculpting his scion as the next big thing in Bollywood.