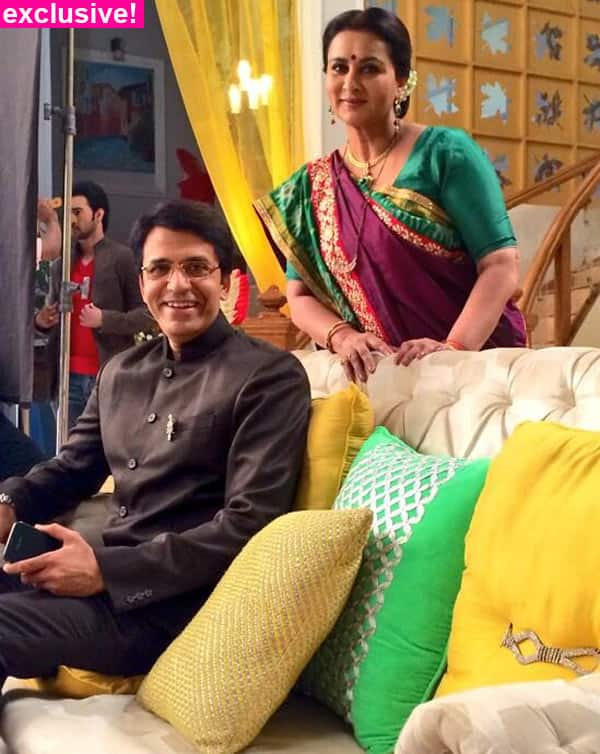 He is simple, but greedy for good roles, more money and great company; and Ekk Nayi Pehchaan gives him just that
Sooraj Thapar talks about his character, his equation with his onscreen wife, his connection with Poonam Dhillon, why he decided to do Ekk Nayi Pehchaan and his future plans with his wife.
Don't you feel that the entire focus of Ekk Nayi Pehchaan is on Sakshi (Krystle D'Souza) and Sharda's (Poonam Dhillon) relationship?
No that's not how it is. I have been promised that my role is pretty important and that's how it has been so far. Sharda is a strong character and I make it stronger and believable. My character itself is very powerful, he is the head of the family, and everyone has to function according to him. I believe every character in the show is quite justified and very clear. The director Hemant Prabhu has placed us quite well in the soap.
Will the show be able to change anyone's mentality towards women?
It does and it will affect the audience also. A woman should not be bound to the house and takes that as her sole responsibility. She is capable and at times much stronger than a man. She can definitely do more than one thing. Sakshi and Sharda complete each other. Sakshi teaches Sharda how to live outside the house and Sharda teaches her bahu how to live within the walls. I am sure people will change, not overnight, but they will.
A lot of people are comparing the show to Sridevi's English Vinglish. Do you see any similarity between them?
Similarity is just that Sharda can't read and write English, but there is a lot more depth to the character, which will be explored in Ekk Nayi Pehchaan. The story is ideally inspired from a Gujarati play; just that the serial will get into the depths of things.
Everyone said that the show is about changing your identity. It's not just Sharda and Sakshi who will transform but even the rest of the family. How will you change?
I won't be changing. I will change others but not myself. At least not in the near future.
How is your relationship with Sharda – the character?
He believes that the man is supposed to handle work outside the house and all the responsibilities at home are to be handled by the wife. It's not his duty. He appreciates his wife's efforts at home; he is not against women, mind you. He does charity work for them and promotes their well being; he has even opened a charity under his wife's name. However, the love is missing.
So does he look down on his wife?
No…no! He appreciates her work at home but also reprimands her for his children's mistakes. He doesn't believe she is equal to him, but trusts her to take care of her job.
What made you take up this role?
For an artist, there aren't that many options. Whatever is offered to us, we pick the best of the lot and do that. As for this show, I was in Dehradun; my mom had just passed away. My wife and I were in Rishikesh doing some charity work when I got the call. They called me back to Mumbai and at 12:20 in the night the channel confirmed by role. I shot the promo the next day. Very frankly, I am greedy for a good role, good money, and if I get a good production house like Jay Mehtas then nothing like it. Plus, I had worked with Poonam Dhillon before. We did a play called The Perfect Husband. So it was a good package for me.
Has your equation with Poonam Dhillon changed in time?
No, not really! We are still the same. We did the play in 2004; since then we have been in touch. She knows everything that happens at my place and vice versa. We have always been in touch – in good and bad times. She is a wonderful person to be with. She takes care of everyone in a group. For our play we had gone to America, it was our first time there, but since Poonamji has been there several times, she took care of everyone's needs and discomforts. It's like working in a comfort zone when you are with her.
Tell us something about the production house.
Mr Jay Mehta and his wife are a sweet couple. They are very nice. I got positive vibes when I met them for the first time for this show. I have never worked with them before. The common thread between us is that we regard Sai Baba a lot.
You've just been married. What's your plan ahead?
Well after marriage a man's plan revolves only around keeping his wife happy. I am trying to do that 24/7. My wife is very pretty. We liked each other as co-actors when we began working for Chandragupta Maurya. While I wanted to get married as soon as possible, she had to get her siblings settled before taking the plunge. It was a very filmi story. We wasted one and half years like that and then she agreed to tie the knot.