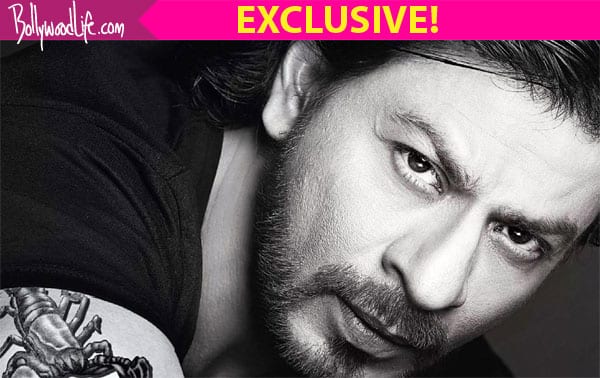 Shah Rukh Khan fans get ready for a massive heartbreak! We at BollywoodLife had revealed to you that the superstar will be a part of Karan Johar' next directorial venture Ae Dil Hai Mushkil. While Ranbir Kapoor and Aishwarya Rai Bachchan's hot chemistry is stealing the show, the makers have kept bare minimum of Pakistani import Fawad Khan in the songs and teaser trailer. But guess what? The ADHM team plans to keep their biggest star underwraps. Yes, Shah Rukh Khan will be missing from the Ae Dil Hai Mushkil trailer. Heartbroken? So are we, but then just imagine whatta surprise it would be to see King Khan mermerise us in the film on 70mm.
BollywoodLife was the first to tell you that Saif Ali Khan was replaced by SRK in Ae Dil Hai Mushkil. Shah Rukh will play Aishwarya's husband in the film. Ash's character is named Saba Taliyar Khan, who a not-so-famous poet in the film. In fact Karan Johar in an interview had revealed how Aishwarya's beauty plays a spoilsport in her career as a poet. SRK and Aishwarya have worked together several times in the past, the duo was seen as brother and sister in Josh, the then romanced in Yash Chopra's Mohabbatein and in Sanjay Leela Bhansali's Devdas. The duo even did a rocking special song together in Shakti.
While Karan Johar might not reveal SRK's role in the film, we did manage to find SRK's presence in the Bulleya song. Yes the focus might have been on Ranbir and Aishwarya's steamy lovemaking scenes. But there's one bit where Ash and RK are dinning in a restaurant and Saba receives a letter asking for her to meet in a corner. Well, that's a note from SRK's character. We also found out that Shah Rukh and Karan Johar's rapport in the set was so enviable that the other stars kept discussing it after shots. Such is KJos and Shah Rukh understanding of each other that it was almost magic. At the end of one scene we hear Ranbir couldn't help but applaud it. Apparently the actor felt that Johar and Khan's bond is what every actor and filmmaker and actor should share. (Also read: Aishwarya Rai Bachchan is stealing Anushka Sharma's thunder in Ae Dil Hai Mushkil with her swag!)
And it's not just SRK, the other Khan is also being kept underwraps. Yes, Fawad Khan too has a cameo in the film and will be playing Anushka's love interest in this movie. Khan's performance in Kapoor & Sons impressed the Dharma head honcho so much that he decided to extend Fawad's role in ADHM and we're glad. Even in the few scenes that Fawad has appeared on screen we cannot help but go ga-ga about him. However, if you thought that Fawad would be promoting the movie in India alongside Ranbir, Aishwarya and Anushka then you're absolutely wrong. And this has nothing to do with the recent furor about Pakistani actors following the Uri attacks.
Ranbir Kapoor and Aishwarya Rai Bachchan passion

The talks about their sizzling intimacy has been breaking the internet, and now you get to see it.

Image credit: Youtube

Ranbir's tickles Aishwarya's thigh with a pleading look

A scene in the song shows the duo at a dinner party where Ranbir can't keep his hands off the sexy lady.

Image credit: Youtube

Ranbir licks the cake off Ash's neck

This scene in the video is surely the one to make you swoon

Image credit: Youtube

Ash seduces Ranbir with some cream

Ash playfully licks the cake off Ranbir's cheek which will make you envious of him.

Image credit: Youtube

Aish and Ranbir's chemistry is crackling

The closeness between the two in the song is so intense.

Image credit: Youtube

Aishwarya and Ranbir Kapoor's Bulleya also features a steamy strip tease sequence

Ranbir slowly slides the strap off Ash's shoulder and gently kisses it. DEAD!

Image credit: Youtube
The reason Fawad will not be promoting is one Karan does not want to mislead FK fans by promoting it as his film. And the second reason is that Fawad is going to be a daddy for the second time some time soon. Fawad's wife is pregnant and might deliver in a few weeks, the actor wants to be by her and welcome the newborn.
Clearly we will have to do without the Khans this time around. But that isn't hampering our excitement for Ae Dil Hai Mushkil, is it? Watch this space for more updates…