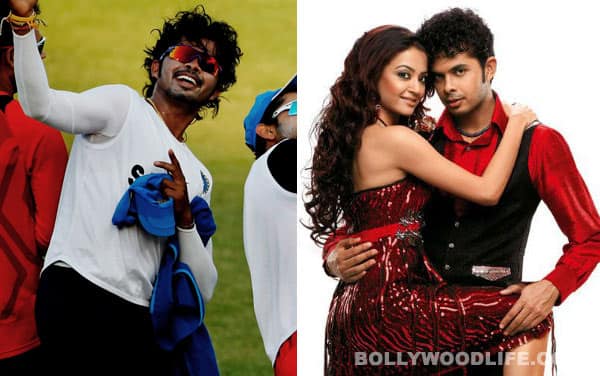 The cricketer is going to make his acting debut in Malayalam film Big Picture. Cineswami tells us more
It could be argued that Sreesanth was always an actor. He certainly has all the necessary qualities for it. You may recall the impromptu horse-riding dance he broke into after hitting South African bowler Andre Nel for a six. Psy lovers note – this was several years before Gangnam style. Doubters may also note the fact that the cricketer performed an approximation of a breakdance a couple of years ago while his former India teammates MS Dhoni, Sachin Tendulkar and VVS Laxman looked on in stony faced silence. Only Suresh Raina appeared to be enjoying Sreesanth's performance but we won't think any lesser of him for that.
Then there is Sreesanth's well documented ability to burst into tears at the drop of a hat, or at the very least the slap of a palm as administered by the peerless Harbhajan Singh, himself no stranger to dancing in reality shows. But we'll come back to Bhajji later. Sreesanth's ability to turn on the tear glands should endear himself to production crews who will save a fortune on glycerine. Let's also not forget the Kerala King's unique fashion sense. Nothing is too garish for him. Quite the clothes horse is our lad.
And, Sreesanth has the biggest qualification to be a bona fide movie star. He doesn't have blackbuck and accident cases against him like Salman Khan does, but he does make a strong case for bad boy status for being accused of spot fixing. Plus there are all those rumours of booze parties in Bangalore busted at dawn by the local police. If these aren't enough, he has another movie star quality – excessive superstition. The number of chants, incantations, invocations and amulet kissing prior to each ball he bowls take long enough to lull the batsman to sleep.
Anyway, all your fervent prayers are now answered. Sreesanth is going to make his acting debut in a Malayalam film called Big Picture directed by Balachandra Kumar. He had done a guest role in lyricist-turned-director Kaithapram Damodaran Namboodiri's Mazhavillinattam Vare, but that sadly ended up on the cutting room floor after the Indian Premier League spot-fixing scandal.
"It will not be easy as cricket," is Sreesanth's pithy statement about his new movie role.
We have a humble suggestion for Sreesanth's playback voice. A few months ago, a fellow cricketer who the Malayali Maharaja is rather close to made his music video debut with Ek Suneha. Though there was no actual singing, instead a forceful narration set to music, we think it will be a voice match made in heaven. We are, of course, referring to Harbhajan Singh.
ALSO SEE: IPL spot-fixing scandal: Sreesanth has a Bollywood connection!