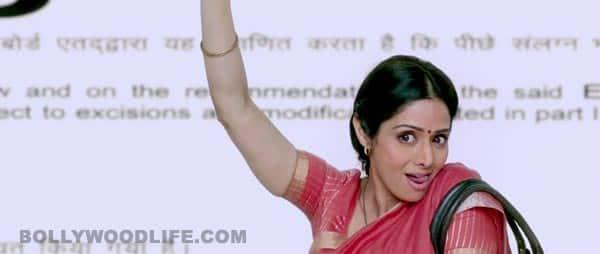 The language bug has bitten the English Vinglish actor! What next?
We've all seen how hard Sridevi is working to get her English right. Remember the promo of English Vinglish? Well, now that we see how much she is sweating over learning this phoren language, we couldn't help offering a li'l help.
So in the 'learn-English' phase of Sridevi's life, we would like to offer her some simple translations that could help her hum her favourite Hindi songs and learn a bit of English too! Now what do they call it? Ek teer se do nishane or, as Ms English Vinglish would say, 'With one arrow two aims'.
So here's a tiny English lesson for you, dear Sridevi. Enjoy!
Song from Chandni or as Sri Devi would like to call it – Moonlight
Mere haathon mein nau nau choodiyaan hai,
zara thehro sajan majbooriyaan hai.
In my hand there are nine nine bangles,
Kindly wait a li'l darling I have restrictions. (Now that's a polite request, no?)
Song from Mr India
Bijli giraane main hoon aayi,
kehte hai mujhko – hawa hawaii
To fall the lightening, I have come,
I am called – wind Hawaii. (Storm alert?)
Song from Chaalbaaz – or as Sridevi would call it in English –Trickster
Badi chhoti si hai mulaqat
Bade afsos ki hai baat
Kisi ke haath na aayegi ye ladki
Very small is the rendezvous,
Very small is the issue,
In no one's hand will this girl come. (Ah! Smart girl)
ALSO READ: