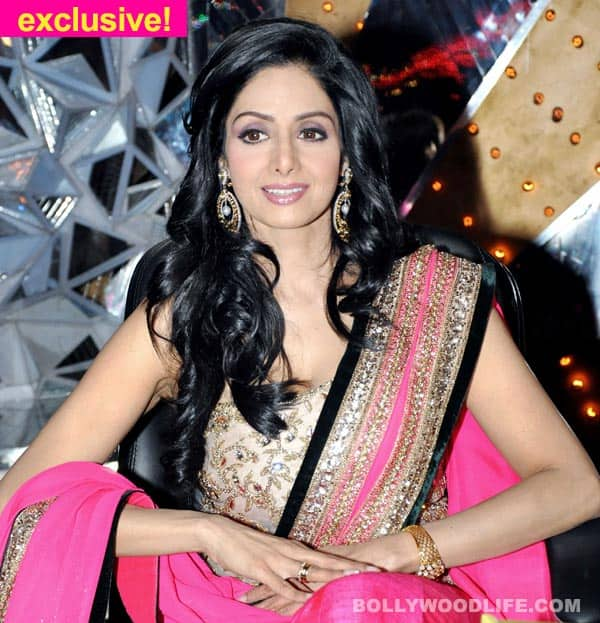 Mrs Boney Kapoor aka Sridevi conveys a lot with her expressive eyes, so we don't mind at all if she verbalises so little with her sparse but sweet words. We cornered Bollywood's 'lady Amitabh Bachchan' to know what it feels like to be back in the business with a widely appreciated comeback vehicle in English Vinglish
She arrives in a swanky spotless white Audi, a good one hour late, but we wait patiently at a suburban five-star hotel in Mumbai to chat with her. Dressed in a sunshine yellow top that complements her tangy leggings, Sridevi has the aura of a diva. And it hits you the moment she steps out of her plush vehicle.Riding high on the success of her sensational comeback film English Vinglish, the 49-year-old veteran actor barely manages to keep her petite frame balanced on her pointed stilettos.
With her manicured fingers tightly clutching a gold designer bag slung over her shoulder and sporting a curious smile on her face, Sri walks into the hotel lobby. Once there, she hurriedly calls for the elevator and rushes quickly towards the conference hall. "I am sorry, I was not aware of the exact time when the interview was scheduled. Sorry to keep you waiting," she apologises in her trademark shaky voice, her gaze serious and smile welcoming.
We get down straight to business, right after congratulating Sri for her wonderful celluloid comeback with a delightful film. Slowly, the conversation moves to the making of the film, its commercial success, the critical appreciation it received, Sri's glamorous life, her private space, her aspirations, her producer husband and two lovely daughters, her journey so far, her road ahead and much more….
Your comeback film English Vinglish is a success. How does it feel?
It feels great when you realise that you are accepted, your work is accepted and appreciated. Success comes much later. I am glad that people liked the film. They liked my work and the hard work we put in as a team to make a wonderful film. English Vinglish will always remain close to my heart.
Madhuri Dixit and Karisma Kapoor – the two huge stars of their times – tried to make a comeback, but neither achieved the kind of response you did. What according to you made English Vinglish a hit? Is it the Sridevi effect?
No, I don't quite think that it is Sridevi effect. You have watched the film; you tell me why you liked it! I think you liked it because it is a good story. People could relate to that story. Everybody is working hard in the industry to be successful. I don't think I did anything special. It would be unfair if I claim that I made the film a success. The credit goes to director Gauri Shinde and her team.
Was it easy to face the camera after 15 long years? Do you think you have evolved as an actor in terms of how you project yourself for the camera?
Honestly speaking, I never analysed myself that seriously. I know the times have changed, but I didn't do anything special to change myself as an actor. For this film I blindly followed Gauri's instructions!
What was it about the film that compelled you to sign on the dotted line after a long hiatus?
It is the story, undoubtedly. The director's conviction to show the story on the big screen made me sign the film. I thought I had to be a part of this film, for it struck an emotional chord in me when I read the script. Woh boltein hain na ki andar se awaz aayi ki yeh film mujhe karni chahiye (an inner voice told me that I should do this film)…
Actors have specific goals or aspirations in their minds when they sign a film. Have you achieved your objective you wanted to with English Vinglish?
I didn't want to achieve anything. I didn't choose this project to prove anything to anyone. But I am happy with the kind of response we are getting for the film and the message it conveyed so beautifully. I was touched when a lady from Toronto, Canada, told me that we don't realise how we treat our own people, our friends, our close ones, especially our mother, unfairly, many a time unknowingly. English Vinglish made her cry. That reaction touched my heart.
Director Gauri Shinde showed a lot restraint to make your character in the film believable. She could have easily made you dance; she could have perhaps inserted an item number – all the rage these days. But she showed intelligence and put the character before the star. Did you miss dancing in the film?
I think Gauri did a fine job there. Though I love to dance, it would have been inappropriate to show my character breaking into a mindless item song. Uski toh zaroorat hi nahi thi na (It was not needed, right)!
Your character Shashi – or for that matter, her goodness – is taken for granted by her family. Did you face a similar kind of situation in real life considering the fact that you are a big star for the rest of the world, but in your private space, at home, you are a doting mother and a dedicated wife?
Thankfully I never faced such situation at any point of time in my life. At home I only play a mother who knows what to expect from her daughters. Nobody takes me for granted. Every individual needs respect, honour and love. Main ghar pe apne daughter pe cheesein impose nahi karti, they have their own share of worries and set of hurdles (I don't impose things on my daughters). Our family respects the individual space we need in our lives. In fact, after the screening of the film my daughters told me that we hate those characters who don't value their closed ones.
After English Vinglish what kind of roles would you like to play? Would you stick to women-centric films, or are you open to doing full-fledged commercial films as well?
I never thought about it seriously, but I will do any interesting role that will suit my personality, my age. But I have to be comfortable in that role.
In that case, what should a script have to seduce you on board?
As I said before, as long as the story interests me and challenges the artiste in me, I am comfortable playing any character. Yes, I will do it.
What projects you will be working on now?
There are a couple of projects, but I am not allowed to talk about them at this point.