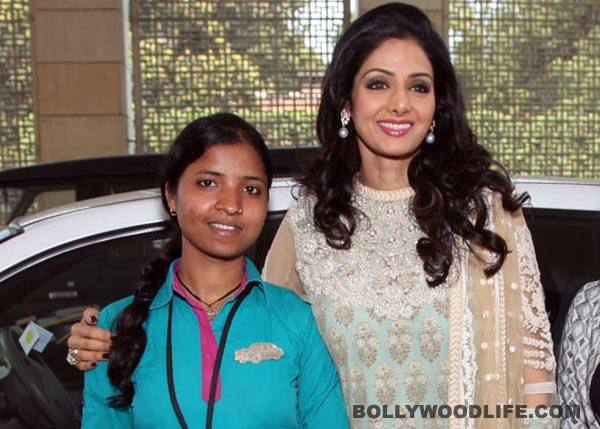 When the English Vinglish actor hitched a ride in New Delhi, li'l did she know that she would walk away impressed
Sridevi was in New Delhi for the inauguration of Design One, a fund raising exhibition that took place on February 27. And while there, the actor was ferried to the venue by a smiling female cabbie called Savita who works for Sakha Cabs.
Sakha Cabs is an initiative by Azad Foundation to ensure the safety of women traveling in the capital that has been deemed unsafe owing to several rape incidents in the recent past. And Design One, an initiative that showcased the products of young Indian designers like Masaba Gupta, Abha Dalmia, Falguni Mehta, Anjali Kalia, Rina Singh and Neeru & Madhu to raise funds for an NGO, had donated one cab to this foundation.
It was in this cab that Sridevi met Savita. "Like the first time how I worked with a woman director in English Vinglish, I travelled with a woman taxi driver. It was quite exciting and thrilled," the actor said and posed for a photo with the smiling driver.
Hinting at the changes that are taking place in terms of women empowerment, Sridevi had said in an interview, "Things are changing now and that's the reason I'm here."
Kudos to women power, we say!
Photo: NDTV