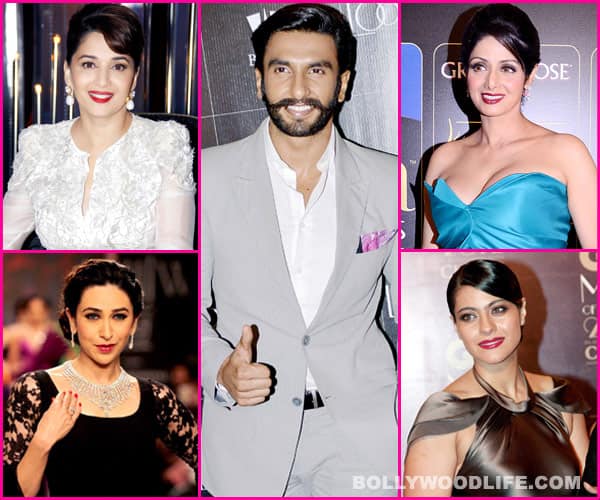 The Ram Leela hero is likely to share screen space with one of these two beauties in Zoya Akhtar's next…but which one?
There's been a lot of speculation about the cast of Zoya Akhtar's next untitled film. The one thing that seems to be confirmed – it could of course change tomorrow – is that Ranveer Singh will play a lead role. And the latest we hear is that either Sridevi or Madhuri Dixit will essay the role of Ranveer's mother in the film. The role is that of a typical Punjabi lady, which started us thinking. Will the dhak dhak girl look better as a loud Punjabi mom or will Chandni do more justice to the role? What do you think? We also hear that Anil Kapoor is likely to play Ranveer's father in Zoya's film. With Anil stepping into the paternal shoes, would Sridevi or Madhuri as the mother work best?
When it was first spoken of, Zoya's untitled next was supposed to bring together the young Kapoor cousins Kareena Kapoor and Ranbir Kapoor as onscreen siblings. However, Ranbir couldn't find dates for the project. So he was replaced by Ranveer Singh. Oddly, Bebo wasn't too keen to play Ranveer's sister and she backed out too. Now there are speculations that Priyanka Chopra or Kajol will play Ranveer's behen in the film. Well, this one sure promises an interesting cast, no? Whenever it is settled, of course!
What we don't understand is, how can Kajol be up against our Exotic babe as Zoya's choice for Ranveer's onscreen sister? They certainly cannot be of the same generation of actors, can they? How about Kajol playing Ranveer's mom instead? Okay, okay, we knew that would raise a storm of protest. So you tell us – which B-town actress could play Ranveer's Punjabi mom in Zoya's next?