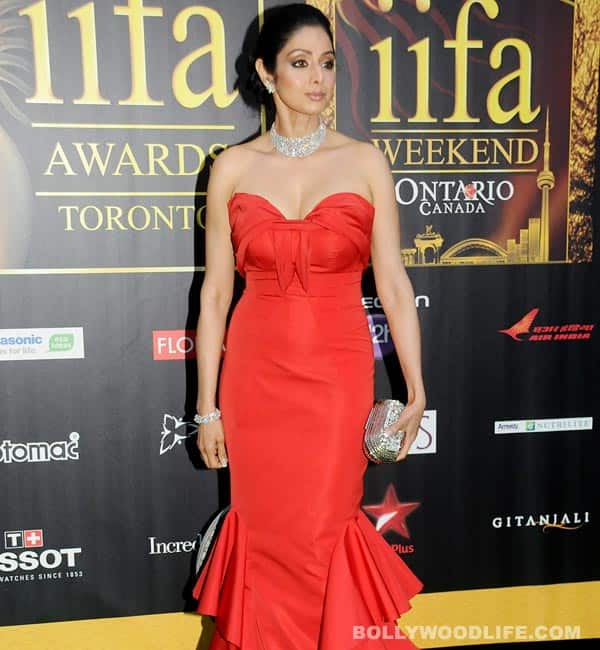 We mean that Ms Hawa Hawaii's comeback vehicle titled English Vinglish has been selected for screening at the Toronto International Film Festival
In September 2011, a day before the Mausam premiere, director Pankaj Kapur and his producers cancelled the love saga's screening for Canadians fans at Toronto International Film Festival. The incident irked officials at the 36-year-old fest, and so they swore not to screen any more Bollywood movies.
But R Balki's wife, Gauri Shinde's first feature film English Vinglish starring Sridevi made the TIFF authorities change their collective mind. A section of people at the famous fest saw bits and parts of the film and were pretty pleased with it. Or maybe the change of stance came 'coz the TIFF guys know mainstream Bollywood flicks are the best bait to attract the Indian-Canadians?
Anyway, EV brings back '80s reigning queen to the silver screen and will be premiered on September 14 at the fest held in the Canadian capital. Star actor Sridevi, Agent Vinod actor Adil Hussain, French actor Mehdi Nebbou, who plays a pivotal role in the film, and director sahiba Gauri will attend the big event.
We think Sri's comeback vehicle is already getting a different welcome from her archenemy Madhuri Dixit-Nene's mundane Aaja Nachle. Does that mean the Hawa hawaii babe has a better chance at getting back to movies than her arch rival? We'll have to wait to find out!