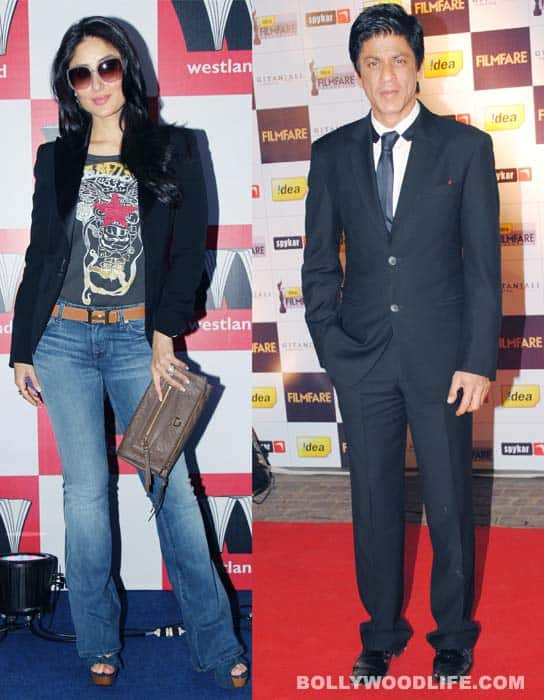 Kareena Kapoor claims that she's not the 'Lara-Croft' kind – running around the trees and sashaying in exotic chiffon saris is what makes Bebo a happy girl. And Shahrukh Khan is happy to indulge her…
All Kareena fans who fantasise about her doing some hardcore action and beating all hell out of the bad boys will be highly disappointed after hearing this piece of news. Bebo hates being versatile – all she wants to do is sing, dance, wear designer clothes and, if there's any time left, show off some acting skills. We really appreciate the fact that Bebo's finally found her forte and wants to stick to that, but all we are asking for is some decent performances. Where have the cheerful Chameli and the happy-go-lucky Geet from Jab We Met disappeared to? Maybe the beefy Bodyguard overshadowed her? Sigh! "I hate hanging from the harness and doing fight scenes. I told SRK that you can make me dance how much ever you want, but I am not going to fight in RA.One," she said on a TV show recently. Now the King Khan took that way too seriously and brought in international sensation Akon all the way to 'apna India' to croon for his self proclaimed 'blockbuster of the year', Ra.One. The one person he forgot to hire is a decent choreographer. So while we groove to the beat of Chammak Challo and praise Akon for his composition, we wonder what SRK and Bebo are up to with those disastrous moves! Well Kareena, you will realise some day that 'action' speaks louder than 'shoddy work'….
ALSO READ: SRK wants Schumacher for 'RA.One'!