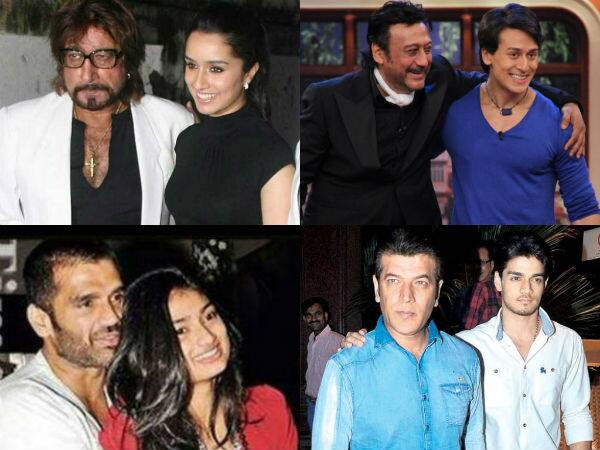 Tiger Shroff, Shraddha Kapoor, Athiya Shetty and Sooraj Pancholi's daddys have a reason to revive friendships
Over the years, actors bonded when they co-starred in films, forging strong friendships that have weathered the trials of time. Today, as star fathers, they take pleasure in watching their children pair up on screen.
The latest dad dosts to see their kids team up are Jackie Shroff and Shakti Kapoor (they've been friends for 32 years) and Suniel Shetty and Aditya Pancholi (friends for 19 years). Jackie's son Tiger will be acting with Shakti's daughter Shraddha Kapoor  in Sajid Nadiadwala's next directed by Sabbir Khan while Suniel's daughter Athiya and Aditya's son Sooraj have already started shooting for Salman Khan's Hero, directed by Nikhil Advani.
Here's what the star dads had to say about their friendships and their children as screen pairs…
Jackie Shroff
I met Shaktiji first in Teen Batti, where I used to live. I was the hero of my area and he was shooting somewhere down the road. My gang of boys came and told me some handsome guy was shooting in my area. I was like, 'Kya apne se zyada handsome hai?' So I went to see this guy. Shaktiji and Uday Chandra were shooting for Khel Khiladi Ka (1977). Before that, I used to think we were the best looking dudes around but we took a look at their faces and saw them looking so cool… we returned from the shoot, our tails between our legs. The first film we shot together was Hero. That's where we connected. Shaktiji always loved and took great care of my mom. He would tell me, 'Jaggu, flat mein paisa daalo, gaadi mein nahi.' Shaktiji is like my older brother and mentor. He is an angel who always had a good word for me. We had a blast shooting for Swami Dada. He is one of the finest actors I know. The film with Shraddha and Tiger will be like a trip down memory lane…. They have been friends since school and now, it's fantastic that they are working together!
Shakti Kapoor
Jackie and I are very close. He's like my kid brother. We first met on the sets of Dev Anand's Swami Dada (1982) where he played my henchman. Jaggu mere peeche khada rehta tha and I used to tell Dev saab, 'Yeh ladka bahut bada hero banega ek din. Why have you given him such a small role?' I later heard that Jackie was a huge fan of Dev saab and that he was happy to give even a passing shot. He was such a good-looking guy! Simply dressed… Jaggu looked so dashing. I would tell him, 'You don't know what you look like'. I became a big fan of his. He used to have a waist of 28 inches and rock solid — not an inch of fat. And look at fate… When Jackie was launched as a hero in Subhash Ghai's Hero, I played the film's villain. Nobody knows this about Jackie. When he started shooting for Hero he used to live in town and would come to Juhu to shoot at one of the studios. By the time he reached the sets all the money in his pocket would become zero! Jaggu used to give everything away to the beggars. "Yeh lele bhidu tere paas khana nahi hai,"… And all the beggars used to surround him especially at Mahim Church. One day, Jackie's mother and I were sitting and I told her that he was giving all his money away, but hadn't a roof over his head. His mother told me that Jackie listens to one man only and that was Shakti Kapoor.
After that, I made his life miserable. I kept nagging him to buy a house. Jaggu started saving money and when he bought his home in Bandra Bandstand, the first thing he did was call me up and say, "Shakkubaba (his nickname for me) I want to give you a good news. I have finally bought a house.' Hero became a super-duper hit, me and Subhash Ghai threw a party on a ship. Jaggu and I hugged and then we both cried… We never thought he would become such a huge star!
I am very happy that his son is acting with my daughter today. Tiger is like my own son. I don't know him too well as he wouldn't come on the sets often but I've heard that he's taken after his father. Today, all the sons — Varun Dhawan, Arjun Kapoor – are all grown up, but used to sit on my lap as children. I am very proud that they are doing so well today.
Aditya Pancholi
Athiya is like my daughter, she's my brother Suniel's daughter. We have worked in several films together and I have always found him to be a lovely person, very professional and strictly on time. Suniel is always into some business or the other, always doing something. He has business acumen and yet, has maintained his relationships with his friends so beautifully. I like the fact that he's so disciplined. He doesn't drink or smoke and has no vices. Suniel is a good inspiration for the youngsters. I remember a funny incident with him which only Suniel, Saif and people connected to the film will understand, We were shooting for Ek Tha Raja in Bhavnagar in Gujarat and suddenly one day we had to vacate our rooms, clean the cars, cancel the schedule and run back to Mumbai (laughs). We've shared a very warm friendship where we looked out for each other. I am very happy with the way Hero has turned out. I saw some rushes and Athiya and Sooraj are looking great together. I am very happy to see these youngsters doing so well today.
Suniel Shetty
I have known Nirmal (Aditya Pancholi) since our first film Suraksha (1995) – almost 20 years ago. I am very impressed with Nirmal's acting. His film Saathi best showcases his acting talent. There is a lot of potential in him – he has a great personality, too. Nirmal is one of the few men in the industry who aggressively stands by his family, work, relationships and friends. I tend to always get along with stars like him, Salman, Ajay and Sanju for that reason. We stand up for each other. Today with Athiya and Sooraj working in a film together, it has made the relationship stronger. A combination of friendship and business is continuing forward in such a beautiful way. I am very happy about the entire setup my daughter Athiya is working with — producer Salman Khan, the director Nikhil Advani or Sooraj himself. I have seen bits of the film and have really liked what I've seen so far. There is no manipulation in my relationship with Nirmal or Salman – it's straight from the heart. Nikhil is living and breathing the film and is obsessed with the film and the kids — what more can a father want? First, Sooraj was signed, Athiya came in later but when I got to know I thought it was the perfect combination — Salman, Reshma Shetty and Sooraj. Sooraj is in a league of his own and I can make that judgement call. When people were criticiSing Tiger, I had said that he will take it to a different level. Today, Tiger has already established himself in B and C centres. Sooraj too will win a lot of hearts.