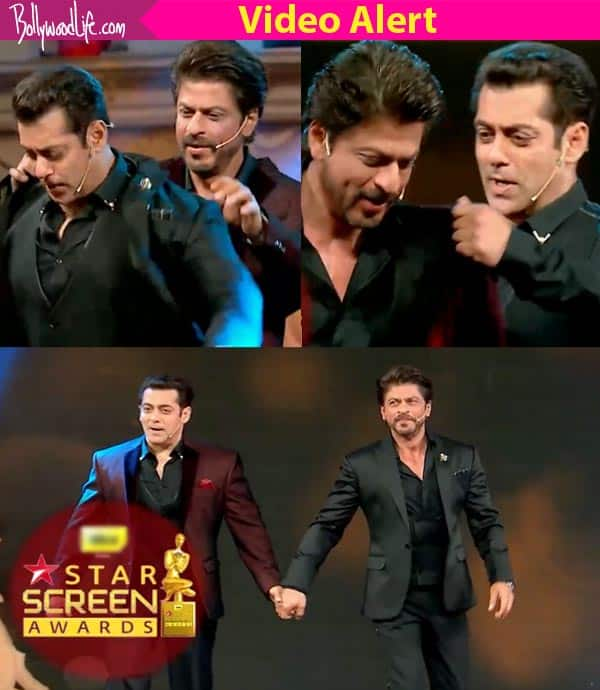 Shah Rukh Khan and Salman Khan's opening act for Star Screen Awards 2016 involves singing Mustafa! Ever since we found out that the awards will have SRK and Bhai as hosts for a particular segment, we've been dying of anticipation to watch them perform. And guess what, the day has finally come when we'll see them pull each other's legs and entertain us. Whilst we speak of entertainment,  a video of the duo singing Mustafa has started doing the rounds. Well, the song, as most of us know is about friendship. Maybe they're using this to quash whatever rumour is left of their animosity. Anyway, there's a video where they're performing on Mustafa. (ALSO READ – Did you know Shah Rukh Khan has won 267 awards till now?)
Same way, in the promo as well, we see them singing and making an entry. Well, we remember very clearly that the actors made their grand entry on cycles.They made their entry on the stage in cycles! Rings a bell? The first time we were blown away by the sudden amity between Salman and Shah Rukh was their late night cycle rendezvous. Perhaps they wanted us to relive that night so they did the same once again. You can see a glimpse of their bromance. Check out the promo video below.
Don't miss @BeingSalmanKhan and @Iamsrk sing along to Mustafa at the #StarScreenAwards this 31st December at 8pm! pic.twitter.com/VKUE4f6hju

— STAR Plus (@StarPlus) December 21, 2016
This isn't the first time we've been showered with Shah Rukh Khan and Salman Khan's bromance. In the past too, we've caught them in the act and as the days have gone by, their bromance has only turned for better. While a lot of buzz was already doing the rounds about them coming together to host the event. Little did we know that we were in for some seriously adorable bromance. At the event, a lot of things happened. Not to forget how dapper they both looked at the awards show. They actually gave all the divas a go for their money with some impeccable fashion statements at the red carpet.
Well, this is just the start. We'll be seeing a lot of action from Star Screen Awards 2016 soon on TV. Don't go anywhere folks! Stay tuned to this space for all hot updates from the awards night. Also, do share your thoughts with us in the comments section below.
Sunny Leone's Laila Main Laila from Shah Rukh Khan's Raees is finally out

The Twitter exchange between Sunny and Shah Rukh is literally winning the internet right now. I mean, no seriously! While Sunny has been tweeting about the song since morning. Shah Rukh happened to join her just few hours ago and boy, look at him getting all cheesy as hell with Ms Leone.

Image credit: Youtube

Sunny Leone takes over twitter to announce the release of Laila Main Laila from Raees

As Sunny Leone tweeted "#LAILAComingToday ;) !!!!!" Shah Rukh Khan replied, "kabse khamosh hue ho jaane jahan kuch bolo … kya abhi aur sitam dhane ko jee chahta hai. Ab aa jao." We are sure this interaction between Sunny and Shah Rukh is breaking the internet.

Image credit: Youtube

Sunny Leone has the perfect reply to Shah Rukh Khan's tweet

We all know that Sunny is a big fan Shah Rukh Khan the Laila replies with a perfect dialgoue by Shah Rukh's film and tweets, "Ruk jaa O dil deewane.... Dekhu toh main Zara... @iamsrk #LailaMainLailaOutToday #Lailaaaraheehai ;) "

Image credit: Youtube

Shah Rukh Khan works his charm of Sunny Leone

The King Khan posts an image which reads " Kabse Kare Hai Tera Intezaar Kab Aayegi Meeri Jaane Bahaar!" Shah Rukh captioned his poster as, "Maybe if I try my old world charm, Laila will be here faster. If some of you can also give it a go...?!" Shah Rukh Khan is driving his fans crazy with these charming tweets.

Image credit: Youtube

The wait for Sunny Leone and Shah Rukh Khan's Laila Main Laila is fianlly over

As Sunny Leone tweets, "Jaanam Dekhlo Mit gayi Duriyaan, Main Yahan hoon, Yahan hoon, https://www.youtube.com/watch?v=95I5VaR7GeU&feature=youtu.be … !!!!!! ;) X #LailaMainLailaOutToday" we are sure the fans must be going crazy. Shah Rukh too couldn't control his excitement and tweeted, "Uff @SunnyLeone urf Laila akhir aap yahaan hai, yahaan hain..yahaan"

Image credit: Youtube

Sunny Leone and Shah Rukh Khan's chemistry in Laila Main Laila from Raees is super hot

Shah Rukh ended this Twitter tease by saying, "Uff SunnyLeone urf Laila akhir aap yahaan hai, yahaan hain..yahaan" and released the song. How we wish Shah Rukh and Sunny bond this way at least once every day! Not to mention, Sunny and Shah Rukh's chemistry from Laila Main Laila is quite a steamy affair.

Image credit: Youtube