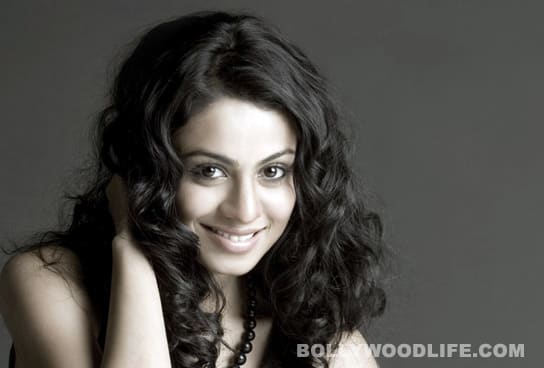 Manasi Parekh was about to climb up on the table to do a spontaneous and naughty number, true rockstar ishtyle, when we pinned her down for an interview. The winner of Star ya Rockstar spoke to us from the highest point of cloud nine about defying rules, meeting Kolaveri di star Dhanush and being in love….
Manasi Parekh, the multifaceted rockstar, is an actor, singer, writer and also a good cook who loves to eat Burmese Khowsuey and compares her mom to the one from My Big Fat Greek Wedding (Maria Portokalos). While singing was always her first love, it took a backseat once she started acting. It was only when she grew tired of acting that she decided to go back to her songs. 
Grandmother's teacher discovers the melodious voice…
Manasi digs into her childhood memories of times when she tagged along with her grandmother for music lessons. " I used to hear her practise", she says and it was then that her talent got discovered by Masterji. "Then I started learning and did my visharad."
A song for every room…
Ask Manasi about her favourite bathroom song and she immediately breaks into 'Samundar mein nahake', only to deny it the next moment. Regaining her composure, she says, "I keep singing all the time. I have a favourite bathroom song, favourite kitchen song, favourite living room song… Whenever I am free, there is a song playing in my head."
The acting bug pays a visit….
Manasi was studying in St. Xavier's college when she started getting offers for plays and television shows. "Music kind of took a backseat. I did not do my riyaaz for four or five years," she says in a voice tinged with regret. "It did prick me that I was not doing riyaaz, but I always knew that I would get back to music."
A wish comes true….
On the last day of shooting for the television serial Gulaal, Manasi was wishing hard for something. "I kept telling people that I wanted to sing. I wanted to start my riyaaz. And then I got a call from the team saying that this (Star Ya Rockstar) is the show we want you to do. If I could've asked for anything, I would've got it!"
It was a beautiful experience…..
Manasi enjoyed herself a lot on the show. "Bahut maza aya (It was fun)", she says with a twinkle in her eyes. "I got to meet a lot of talented artistes on the sets. I have been in other music shows with celebrities too, but this one had quality."
Manasi didn't expect to win Star Ya Rockstar…
Manasi was a consistent performer, but wasn't very hopeful about the voting part of the competition. "Voting mein kuch bhi ho sakta hai (Anything can happen where voting is concerned)," she says. "I always thought maybe I'll reach the finals and then, you know, they will give me a consolation prize. When I won it, I was very happy that people actually voted for me," says a surprised Manasi, who thought she didn't really stand a chance against stalwarts like Sachin Pilgaonkar.
Meeting Dhanush…
Manasi, like so many others, was floored by Kolaveri di and wanted to meet Dhanush, ever since she first heard the song. Her wish was granted. Dhanush was invited to the finale of Star Ya Rockstar. "Dhanush is very simple and unassuming. All of us looked like wannabes in front of him," says the Kolaveri fan.
Music or acting?
The choice is a tough one for Manasi, but she quickly replies, "both". It was acting that brought her into the limelight, after all. "I am an actor first, but I got tired of acting," which, wethinks, is a perfect excuse to go back to your first love.
Defying rules….
Manasi's was a love marriage and it happened when she was very young. So who proposed? "He did," Manasi says with a wicked smile, obviously thinking about husband Parthiv Gohil. But it was no going-down-on-his-knees affair. "He took me to Breach Candy. It was raining…" and the question was popped.
Balancing love and career….
"Life mein kabhi bhi kisi bhi cheez ki ati nahi honi chaahiye (Life should not have anything in extremes)," Manasi says with a solemn face and swears by this rule for maintaining a balance. And husband Parthiv makes it easier. "He understands my need to be creative," Manasi says.
For the low phases….
Reminiscing about the dark times, Manasi says, "I think lows are very essential; we should never fight the low phases," and adds, "You would not know what it is to be happy if you are not sad."
One more wish….
As Manasi plays the role of destiny's favourite child, we ask what her next wish is. "I just wish that whatever happens, whether it is good or bad, I can face it," she smiles.