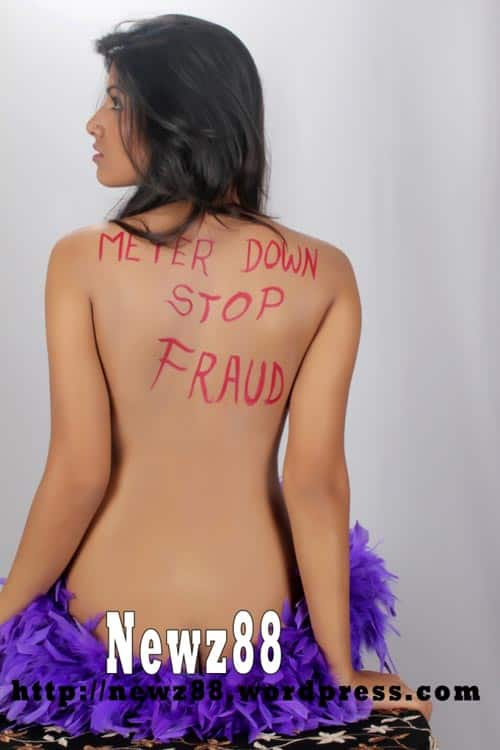 skip advertisement
Looks like Reema Sharma is planning to giving some serious competition to brainless beauties who pose nude citing the weirdest reasons!
The levels these girls can stoop to! All to get attention and maybe land a reality show like Bigg Boss or a small-time film. First it was the virtually unknown Poonam Pandey who created a 'buzz' with her semi-nude pictures on Twitter, targeting both cricket and movie buffs – of which there are aplenty in India. Then Pakistani actor Veena Malik posed in a controversial get-up for FHM India magazine. Also in the pool are girls like Gehna Vashist and Nupur Mehta. But Sherlyn Chopra, who is better known and probably has done more films as compared to all these supposedly hot women, beat them by going the whole hog for Playboy and also sharing her (ewww!) cucumber fetish.
And now there is this Reema Sharma. Who? Exactly. We never know where these ladies come from and announce themselves as Bollywood actors, and go on a stripping spree. Apparently, Reema is a model and has acted in three South films and signed another one. Good for her! Anyways, so she was hired by an NGO called the Citizens Action Forum and a content agency blog called Newz88 to shed her clothes. No dirty thoughts, it's all for a 'cause'. The Forum and the news blog thought this was a unique way to 'protest against the arbitrary fare hike of auto rickshaws and taxis in Mumbai'. Really?
Reema said in a statement, "I was approached by Newz88 to do a bold shoot for an awareness campaign against the large number of tampered fare metres in use by taxis and auto rickshaws in Mumbai. I have absolutely no qualms about posing nude for this shoot as it is a major issue, affecting lakhs of commuters and passengers in Mumbai with a few thousand auto and taxi drivers holding the entire city to ransom with their threats to go on strike."
Now if only that would impress the authorities to bring the fares back to what they used to be! But wait, there's more to come – "the Citizens Action Forum and Newz88 have planned a series of protests against what it terms 'arbitrary discretion' of the Transport Authority, State Government and the auto and taxi drivers. The consumer or passenger has no discretion or say in this matter". God save us. Meanwhile, VIEW REEMA SHARMA PICS below.

MUST READ: Poonam Pandey, Sunny Leone, Rakhi Sawant, Veena Mallik, Sherlyn Chopra – what are Bollywood's controversy queens up to?
Photos: Newz88