Instagram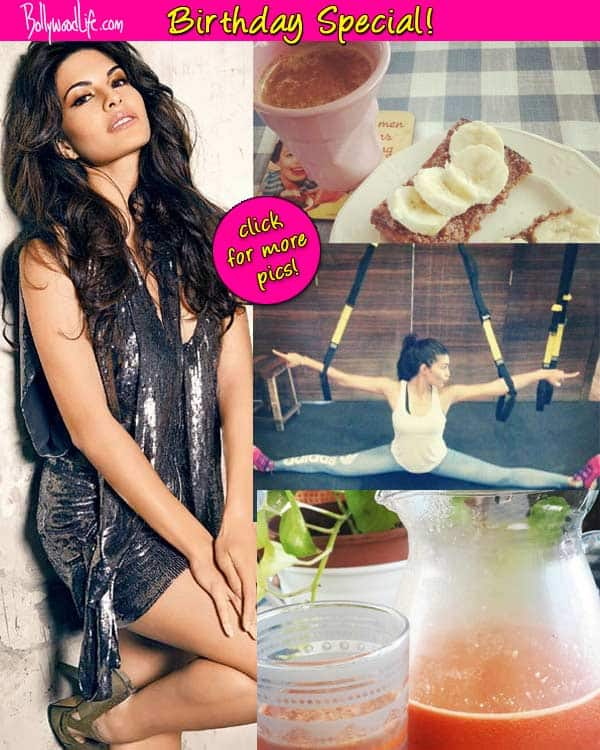 skip advertisement
On her birthday, we reveal the beauty's mantra towards leading a healthy life. Read on to know more…
Jacqueline Fernandez is one of the most health conscious babes in B-town.
Where certain actors like to stay in shape according to the requirements of their on-screen roles, the Kick actor believes in an overall healthy lifestyle. On her birthday, BollywoodLife presents to you the Sri Lankan's mantra on keeping fit, prim and proper. On every picture, you will see Jacqueline's quotes where she is sharing her tips for the same. Read on and enjoy:
Bread talk
Carbs are a fitness freak's enemy, no doubt. Similar is the case with Jacqueline and her bread business. The Murder 2 fame chooses a slice of home-made bread over a marketed one, and promotes the same as well. She likes to top it up with some peanut butter, banana, jam and a regular cup of latte. Well ladies, try it out and we bet you will look smashing like the diva herself very soon!
Shawty keeps it squatty
Be it rains, riots or storms, the Kick actor never misses out on her daily workout routines. Along with cardio and weight training, Jacqueline is a regular with her squats as well. Squats are suggested for those aiming to build stronger thighs and back muscles. Well now we know the secret behind Jacqueline's sensational split in the song Jumme Ki Raat from Kick. With the lass having such well toned and strong legs, the stint was bound to be a stunner. Are you up for Jacqueline's squat challenge, BollywoodLifers?
Get your green on
Green veggies aren't a welcome food, per say, but Jack's essential mantra is to keep having them on a regular basis, at least once a day if not more. She likes to replace her heavy meals with light bowls of salads every now and then and tops them with a bunch of fruits, her favourite being mangoes and bananas as she believes they are the greatest source for fibre, iron and vitamin A and C. So peeps, get rid of those chip packets and get your green on today!
Keep calm and have juice
Summers in Mumbai are challenging indeed. Hence in order to stay calm, fresh and hydrated, Jacqueline proposes to keep sipping on fresh squeezed juice throughout the day. According to the Race 2 actor, not only are juices a good option during the scorching heat but also help in gaining a glowing skin. The beauty likes to have a morning juice with a mix of amla kale, doodhi, spinach, ginger, lemon and celery. There you go, another tip to get a radiant skin like Jacqueline's!
Early to bed, early to rise
Bollywood celebs are often busy with their hectic shooting schedules and unfixed timings. Jacqueline nonetheless aims at getting an appropriate amount of sleep which helps her get through the day. Well they don't call it beauty sleep for no reason. Looks like the damsel's sleeping secrets have helped her with that gorgeous avatar after all! So folks, don't delay those working hours and take your duly naps just like the birthday girl. Deal?
We hope Jacqueline's health tips will come handy. Post your comments below and tell us what you think!