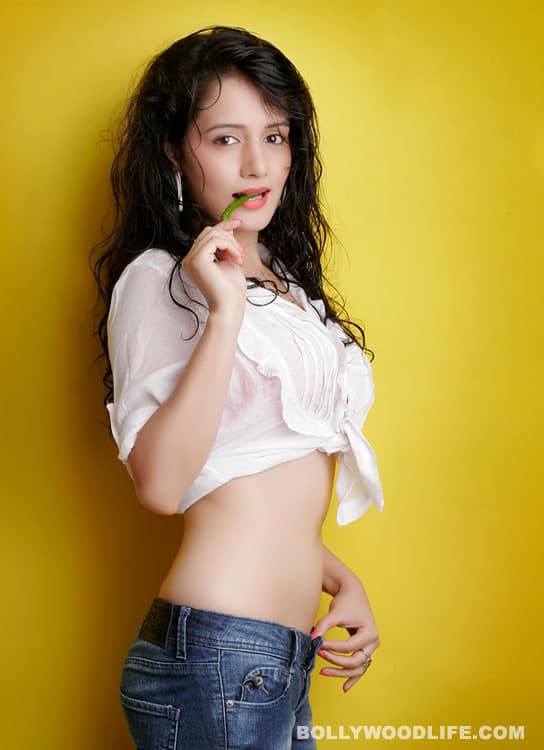 She has moved easily from the small to the big screen. And now she is making her dreams become reality in the world of movies…
Rubbishing rumours of her playing the bad girl in Murder 2, Sulagna Panigrahi, a name that burst into B-town out of nowhere and became part of the sudden wave of promotional rants and raves for the new film, Murder 2, talks about the fun and frolic she was part of on the
sets of the movie. And fun, according to this petite actress, is about crawling into a tunnel full of rats, running around in some remote location and many more such scary escapades.  "I play a 16-year-old innocent girl who's fighting for her life. Mohit Suri (the director of Murder 2) showed me this horrid tunnel where I was supposed to shoot a scene among rats and asked if I was scared of them. Of course I wasn't, but the rats were so tiny and cute that by the end of the shot, the whole unit was concerned if they were hurt; no one was really bothered about me," she laughs.
Sulagna came into the spotlight after she did a television show on conjoined twins called Ambar Dhara. So how did the entry onto the big screen happen? "My producer Rajan Shahi fixed a meeting with someone at Vishesh Films. After that I met Mohit. His first reaction after seeing me was that I fit the role. I was at their office, sitting with Mukesh sir (Bhatt) and wondering if all this was a dream," she gushes. Steamy scenes, skimpy clothes, sexy love-making…the Murder franchise is incomplete without all the sensuality. So were there any inhibitions before taking on this role? "When I got to know that the auditions are for Murder 2, I was pretty skeptical. Thankfully, I don't have any such scenes in the movie. But nowadays steamy scenes are no big deal," Sulagna says, contradicting herself.
Her recent photo, where she's biting a chilly and showing off her toned midriff, has been doing the rounds of several publications lately. What went into creating such an interesting pose, a mix of an innocent face and a sensual aura? "I made sure I didn't bite the chilly too hard, or else the picture would have turned out to be something else," she jokes.
A recent role that fascinated Sulagna was Vir Das' character in Delhi Belly. "I would love to have taken his place and sung Ja Chudail in the movie," she says. And who is the one actor she would love to share screen-space with some day? "Aamir, Hrithik and Ranbir. I know I am supposed to name one, but it's good to have options no?"
And how is working in TV different from films? "In TV, before you finish your makeup, there's someone knocking at your door and calling you for the shot. Whereas in films, it's much calmer; they just let you be and don't pressurise you. In TV, if you ask a director for a retake, he will tell you that the tapes have already gone for telecast. So that's the main difference. TV literally keeps you on your toes…phew!" she ends on a weary note.