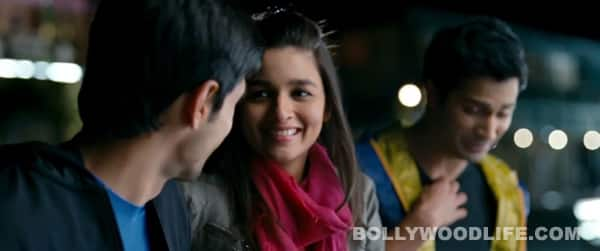 Watch the new trailer from Karan Johar's teenybopper romance
As the release date of Shahrukh Khan's co-production Student Of The Year comes closer, director Karan Johar has been releasing promos that have so far been pretty impressive. With all the promotional tours they have been on, newbies Sidharth Malhotra, Varun Dhawan and Alia Bhatt have almost become household names. While we still do not know who will be the student of the year, we can safely say that this bunch of enthusiastic kids will be in the running for one of the Best Debut Actor trophies, especially if their director has anything to do with it!
We just saw the latest dialogue promo released by the makers of SOTY. The first trailer of this college caper made us believe that the character played by Alia was not just the prettiest face on the film poster, but also has some substance to her credit. The latest trailer negates that – Sidharth tells Varun that Alia fell for Varun because she is a dimwit. Where did that come from? We want to know. And hope to find out soon when the film releases this week.
ALSO READ: STUDENT OF THE YEAR dialogue promo: Sidharth Malhotra shows the middle finger to Varun Dhawan!