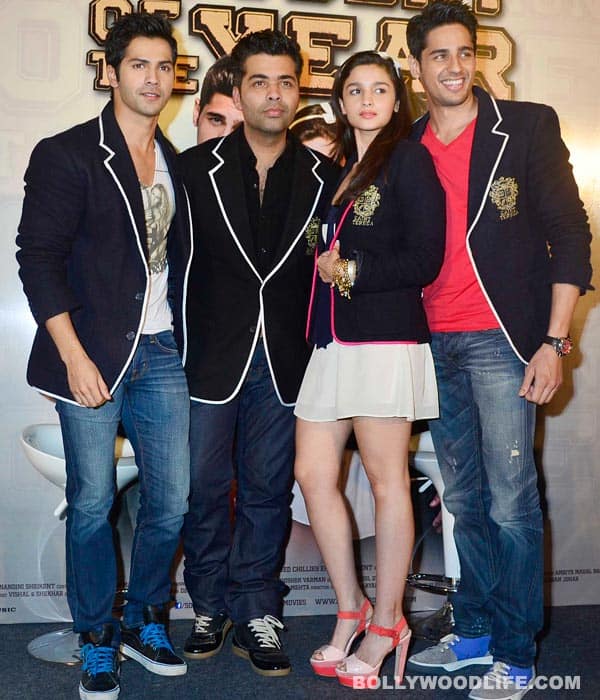 He said so! But we wonder, what happened to the fourth?
Karan Johar is a proud parent. Hey, we are not the ones saying it! The filmmaker said so when he launched the trailer of Student Of The Year yesterday (August 2). "The film feels different from any other film that I have directed, as I have worked with movie stars who don't need hand-holding.With these three newcomers, it was a journey, like nurturing and parenting them," he said. The 'three newcomers' are Mahesh Bhatt's daughter Alia, David Dhawan's son Varun and model Siddharth Malhotra. "I am sure their parents are going through the same emotions that I am going through right now. It's a very special feeling. This is something that I felt I needed to do. It's a very satisfying emotion."
All that is fine, Karan, but what about your fourth newcomer, Kayoze Irani? KJo had excitedly tweeted a pic of Kayoze this February and said, "Ok…that's kayoze irani!!! @kayoze..boman irani's super talented son who we are introducing in SOTY". But he hasn't been given any prominence in the trailer or in its launch. When Karan recently revealed Varun, Alia and Siddharth via a national daily, he left out Kayoze. We wonder why. Did Karan and Kayoze have a falling out? Or does Kayoze have only a small role in the film? Or is he the 'surprise element'? Any guesses?
– With inputs from IANS
ALSO WATCH: Trailer of Student Of The Year