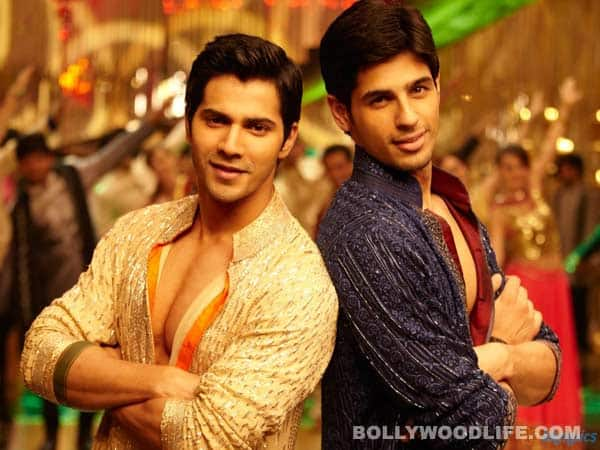 Music: Vishal-Shekhar
Lyrics: Anvita Dutt
Singers: Vishal Dadlani, Neeti Mohan, Salim Merchant, Shekhar Ravjiani, Sunidhi Chauhan, Nazia Hassan, Shefali Alvarez, Shreya Ghosal, Udit Narayan, Nisha Mascarenhas, Shahid Mallya, Shefali Alvares, Benny Dayal, Marianne D'Cruz
Label: Sony Music
Rating: ***
The soundtrack of Alia Bhatt, Siddharth Malhotra and Varun Dhawan starrer Student Of The Year starts with The disco song, a take on the '80s hit Disco deewane. The idea obviously is to bring the groovy song back on the dance floor and get the movie an easy runaway hit track.
Music directors Vishal-Shekhar have enough experience to deal with this version with ease. The good thing is that the original voice of Nazia Hassan has been retained giving it that retro edge in parts. But even as you start getting into the song, an interlude from Shahrukh Khan's Om Shanti Om appears out of nowhere and makes you wonder what the need for that was! And towards the end a love song from SOTY makes its way into this dance number, breaking the tempo. Guess it's integral to the story, but it doesn't help the song. Anyway, it's not the best version of the original, but not bad either. It does make you groove.
The song Ishq wala love is corny but cute. The arrangement is minimalist. Neeti Mohan, Salim Merchant and Shekhar Ravjiani breeze through this feel-good song. It's the only love song in this teenage movie. Slightly filmi, lyricist Anvita Dutt writes about how a youngster would feel when he doesn't just have a crush on someone, but is deeply in love. That's when he realises that its ishq and not just pyaar! It's somehow tacky and sweet at the same time.
Kukkud has 'I'm trying to be cool' written all over it. A fast-paced Punjabi number, Kukkud is filled with Hinglish. It reminds you of the Band Baajaa Baaraat number Ainvayi ainvayi, but it's not in that league. It's catchy, but that's about it.
Ratta mar is a song about how students are forced into rote-learning instead of making them understand a subject. It's a light melody, and the lyrics are relatable, mirroring college lingo: Ghis ghis bheja kar le tez dhar yaar and dar ke kya milega lega kya ukhaad. The idea perhaps was to create an anthem for youngsters, but the punch is missing.
Radha is an interesting fusion number. It combines Indian folk and urban slick beats in a good way. Hindi lines are interspersed with lyrics that go: Radha on the dance floor, dance likes to party, Radha likes to move that sexy Radha body. Towards the end of the song, Udit Narayan sings to some heavy dhol beats – straight out of the early '90s – and then a young chorus takes over singing the English lines. Good fun!
Sung by Vishal Dadlani and Shekhar Ravjiani, Vele is yet another Punjabi number! There's some techno and rap thrown in to make it feel young, but it sounds a little forced. And though it is easy on the ears, it doesn't leave a mark.
Mashup of the year is really not what it claims to be. But this super fast, techno remix of all the numbers from Student of The Year is worth a listen. The mashup is a better idea than creating remixed versions of all the original numbers in the album. So thumbs up to V & S for saving us from those mundane remixes!
Vishal-Shekhar come up with a youthful soundtrack, but don't offer anything different, exciting or new in terms of their compositions – something that young listeners look forward to in a movie that is aimed at them. There's something missing! It's definitely not the soundtrack of the year, but Student Of The Year is still mildly hip and decently happening.