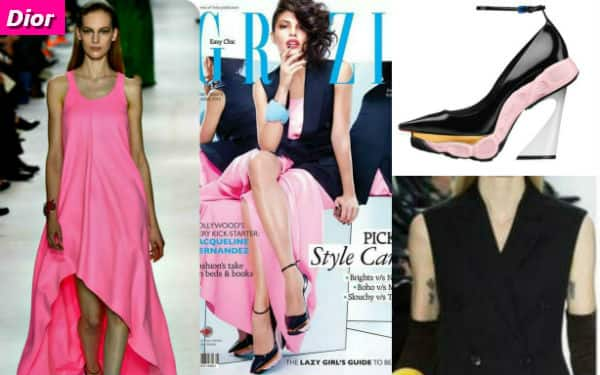 skip advertisement
We just laid our eyes on the new cover of a popular fashion magazine which has the Kick actor as its cover girl. Read on to get all the fashion deets…
Jacqueline Fernandez recently appeared on the cover of a leading fashion glossy. She wore a pink high-low Dior dress from its Fall 2014 collection. Jacky teamed it with a black sleeveless jacket from the same collection. She is wearing a Dior cuff in the wrist which compliments the pink and black beautifully.
Though we loved Jacky's elegant look, what we dug the most were the super-sleek and ultra sexy pumps she wore to finish out the look! As we mentioned earlier, Jacky was dressed in Dior from head to toe.The pumps are Dior's latest creation, the sport-chic shoes are half-stilletoes and half-sneakers. Now that is one hell of an interesting concept for footwear, don't you think?
So do you like the Bollywood babe dressed in Dior?