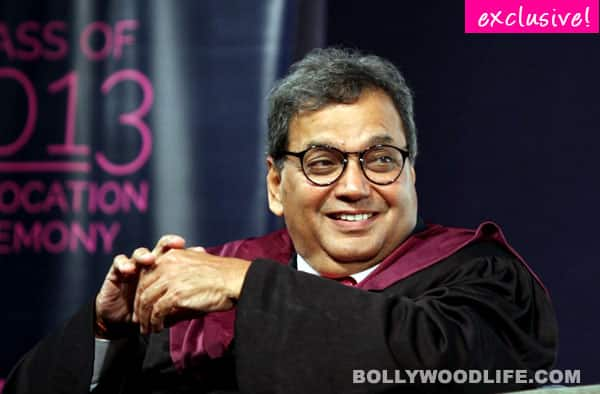 In an exclusive chat with BollywoodLife, the Showman explains why he's still the best and discusses his under-production movie Kaanchi, his old and new discoveries and his fascination with them, an action film with Salman Khan, working with Madhuri Dixit, friendship, rivalries, his banner Mukta Arts' new strategy, Whistling Woods International, legal trouble and much more…
The Kingmaker is long past issues – whether it's renaming his heroines, his blatant passion for them, superstars like Shahrukh Khan and Hrithik Roshan moving away from him or experimenting with films like Black & White and Yuvvraaj. Questions have been asked about whether Midas had lost his touch. These and many more questions riddled my mind as I caught up with the Showman aka Subhash Ghai in Studio 5 at Film City, where he's busy with the patchwork of his next mega offering Kaanchi, managing the affairs of his institute Whistling Woods International on the side…
After directing Yuvvraaj five years ago, what inspired Bollywood's Showman to make Kaanchi? Was it the fear of losing your identity as a filmmaker?
I wrote two scripts in between, but I wasn't happy with them. If you're through with a script, you need to have an apt cast, for which you need to chase actors for their dates. The star I wanted was giving me dates after a year. So I decided to move on and waited for the right script. Kaanchi really excited me, because I think a film like this has never been made in Bollywood. It's about a 20-year-old girl from the hills who belongs to a suppressed community and how she fights for its betterment.
Ever since I started writing Kaanchi, I knew I was not going to sign Katrina Kaif or Kareena Kapoor, 'coz the script needed a fresh face. I had auditioned 300 girls, travelled to different cities and finally zeroed in on a girl from Kolkata called Mishti, who plays Kaanchi. My passion for filmmaking is still the same that I had during Kaalicharan, Karma or Karz.
Which actor did you want for your film?
I want to make an action film with Salman Khan, but he already has his plate full of movies that he has committed to. He's committed to me too. We met last week to discuss that and he has agreed to do it. It's an out and out action film. It should go on the floors by the end of next year and will release in 2015. After Yuvvraaj, it was important for me to think of something different. I've mostly dealt with love stories and action films, one after another. After Kalicharan and Vishwanath, I made Karz, after which I made a family film (Vidhaata) and Hero, followed by Karma and Ram Lakhan. I didn't want my films to look or sound stale.
Compared to your discoveries Madhuri Dixit, Manisha Koirala and Mahima Chaudhary, do you think Mishti has IT in her to become a star to reckon with?
That's how the media thinks. I can either think of my heroine or my script! Mishti might not be good at dancing, but she's very good with drama and emotions. When she speaks, the world thunders… so I wanted thundering expressions from an innocent face! If the film becomes successful, she'll become a big star. If not, then at least people will remember that she was launched by Mukta Arts. Ultimately, she'll win.
At one time, every big actor wanted to work with you, but that doesn't seem to be the case now. Do you ever get the feeling that they find it safer to settle down with new, successful filmmakers now?
Tell me the big stars I have worked with….
Dilip Kumar?
Yes, I had signed Dilip Kumar sa'ab for Saudagar when he wasn't willing to do films. It was his second innings. Next?
Amitabh Bachchan!
We worked together on a subject for ten days and the project got shelved. Next?
Shahrukh Khan!
We had a contract for three films – Trimurti, Pardes and one more film that never got made.
That film was called Motherland?
Yes, I'm surprised you know the name of the film, coz not many in the industry know that! I had signed Hrithik Roshan before Koi Mil Gaya. Nobody knew that he was going to be such a big star. I've never really worked with big stars – the only exception is Salman Khan, when he was going through a bad phase. Have I worked with Rajesh Khanna? No. Shahrukh Khan post Pardes? No. When the stars generally go through a rough phase, I catch them. Probably they don't remember me in good times!
Does that make you disheartened?
No, because I'm proud of my own writing. I write my movie's dialogue, story and screenplay and do direction and editing, and produce it too.
Do you still count yourself as one of the big names like the Chopras and the Johars, or have you lost out to the younger lot of talented filmmakers?
Let me tell you one thing – I've been working for more than three decades. I'm the only director who delivered 11 hits in a short span of time. There was huge competition back then – Manmohan Desai, Prakash Mehra, Feroz Khan and N Chandra among several other big names – but I never complained. As far as my film is concerned, I'm the best. I AM THE BEST DIRECTOR! The moment you start comparing yourself, you get scared. Let the media and trade compare you with others. But you have to believe in yourself, because I don't make their kind of films and they don't make my kind of films. I'm not competing with Anurag Kashyap, Dibakar Banerjee or Karan Johar. I'm competing with Subhash Ghai. There's no point. It's not a race track.
Is it difficult to make yourself believe that you're the best?
You ask people who have worked with me – they will endorse it.
There was a time when your discoveries were talked about – Madhuri Dixit, Jackie Shroff, Manisha Koirala and more. But the only time you got into controversy was with Mahima Chaudhary, whom you never repeated after Pardes. She was also open about the problems she had with you…
I worked with Shatrughan Sinha in Kalicharan and Vishwanath, but after that we never worked together. He's still my best friend and a family member. I haven't worked with Rishi Kapoor for three decades… still my best friend. Working together is not important; one has to maintain the relationship. I'm cordial with Mahima even today.
You had issues with Danny Denzongpa too…
I've had problems with many people. I have problems with my wife also. It has to be solved and you move on. I never hold grudges against anyone. Danny shot for two days for Hero, but then he had some issues. So I told him if you aren't enjoying this, you're free to quit any time and that won't affect our friendship.
Would you not make films with your discoveries again – say for instance Madhuri Dixit, who's doing really well; any plans to work with her? Or are you waiting for her to hit a rough patch?
(Laughs) Madhuri is TV's biggest star today. There's difference between professional and personal relationships. I respect my personal relationship with Madhuri and her family. If I have a script for her, I will approach her.
Why did you cast Rishi Kapoor in Kaanchi?
He suits the role. He's one of the gifted actors we have in the country. He's playing a fun bad guy in Kaanchi who loves guns, guitars and girls. I approach actors who have trust in me. I don't expect every actor to trust me.
On the production front, is your banner Mukta Arts planning to make more films?
Yes, Mukta Arts is going to be very active. We are going to make five films next year. We have a huge bank of good stories that need to be told.
Whistling Woods International was involved in a land dispute. The government leased out a huge area of land to you at a very low rate. How is it contributing to the government in any way?
We have filed a review petition and are hoping for justice, because we haven't made any mistakes.
Is Kaanchi going to be a Subhash Ghai kind of film, or will we see a new Subhash Ghai?
When you say 'Subhash Ghai kind of cinema', it says it all! Kaanchi is a typical Subhash Ghai film, but with modern characters, a modern message, with moral thoughts and values.
You were supposed to launch Jackie Shroff's son Tiger…
Yes, I wanted to launch him, but he was too young. I didn't have a subject for him. Fortunately, Sajid Nadiadwala signed him. Tiger touched my feet and took my blessing before he started work on his debut film. Tiger has huge potential.
There was a time when adjectives were bestowed on filmmakers – people fondly call you 'Showman'. Why don't we hear such titles any more?
I feel today everybody is a showman. Today, filmmaking as a medium has drastically changed. Show business consists of a lot of talented people today, which wasn't the case back then. I feel many qualify to be a showman, because they think big and do well. So it isn't right to qualify any one person as a showman, not even a Subhash Ghai.