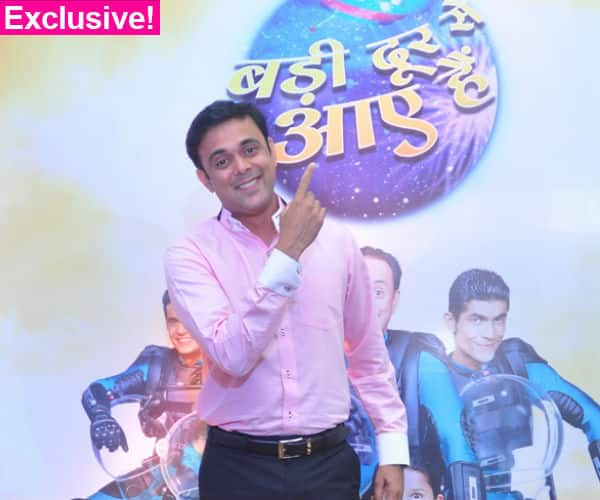 The popular actor talks about why he never took up Comedy Circus, his big come back to TV with Bade Dooooor Se Aaye Hai, a movie with Akshay Kumar and more
We'd heard a lot of Sumeet Raghavan's comic timing, but his charming personality and humility came as a pleasant surprise. Sitting around 15 women, Sumeet made sure that he gave each one his personal attention and answered everyone's questions with a smile on his face. It was nice to see such an accomplished actor mingling with everyone and not throwing his weight around. Read excerpts from the interview…
Why didn't we see you on TV for so long?
I am coming back to television after three years. My last show was Sajan Re Jhoot Mat Bolo, which ran from 2009-2011. I took a break after that. It's not a joke to do comedy 30 days a month for three years continuously. Life had become too monotonous for me doing the same thing repeatedly. Considering, I started my career as a child actor – it's had been a long time since I took a break. I believe that it is important to do quality work than quantity. When I got a call from my favourite production house – Hats Off Productions for a show, I immediately took it up. The script was just a formality.
What have you been doing during your big break?
During my break, I did a movie – Holiday with Akshay Kumar, where I play Mukund – a sub-inspector and Akki's best friend. The movie is set to release on June 6. Then I did a lot of theatre, it is my first love. I had actually done theatre from 1987-1995, but couldn't pursue it for long. Now, I am doing a Marathi play with my wife, Chinmayee, Lekure Udand Zali. Then I shot for Jai Hind – my YouTube show, which has been going on simultaneously. I even completed a Marathi movie, which will release sometime in November. It's my first solo Marathi film.
Wow, that's a lot. Anything else you left out.
I wish to sing, but no one is giving me an opportunity. So, I sit with my harmonium at home and sing.
How was it working with Akshay and AR Murugadoss?
It was a fantastic experience. AR Murugadoss makes me feel proud about being a South Indian. Akshay and I are bum-chums in the movie. We had a great time working together.
Is it true that your new show on SAB TV, Badi Dooooor Se Aaye Hai was delayed?
JD (Jamnadas Majethia) called me sometime in November or December for this show. I immediately came onboard for it. The show was scheduled for sometime in March, but we didn't want it to clash with the IPL season, hence the show's dates were pushed further ahead. I was prepared to wait for it 'coz you just don't want to miss some serials.
Why, what is so special about this show?
Aatish Kapadia – the writer-producer of the show. I blindly follow whatever he says. When he suggests something, it just cannot be bad. If Aatish has written a script, then I don't need to think twice. We have an amazing understanding between us. When he reads the script itself, I know what he wants from me.
Your new show is all about aliens. Do you believe in extraterrestrial creatures?
Well if there is good there is bad. Many educational and informative channels talk about UFO sighting in the world. I may not have seen them personally but I believe they do exist. I have not seen God but that doesn't mean he is not there, right.
Being such a great comedian, why are you not part of comedy shows like Comedy Circus or Comedy Nights with Kapil?
I have definitely done a show like that called, Nautanki on Colors, but it did not do very well. I would love to do a standup comedy show, but my style is different. I do not like below the belt comedy; that's why I never did Comedy Circus. You don't have to do such things to make people laugh.
Is your equation with the cast of Badi Dooooor Se Aaye Hai the same as it was on Sarabhai vs Sarabhai?
In Sarabhai, we were in awe of Satishkaka and Ratnaben. We've seen them together in Filmi Chakkar and seen their individual performances in various shows. As a kid, we've grown up seeing them perform. Once we started gelling on the show, the chemistry was perfect. As for this serial, I am sure things will fall into place; we will have a great time doing this show too.
What special powers do you have in Badi Dooooor Se Aaye Hai?
My entire family has special powers. My wife is has the power of elasticity. I can run fast, my younger son has x-ray vision, my brother is telepathic and my eldest son is the cause of all our woes.