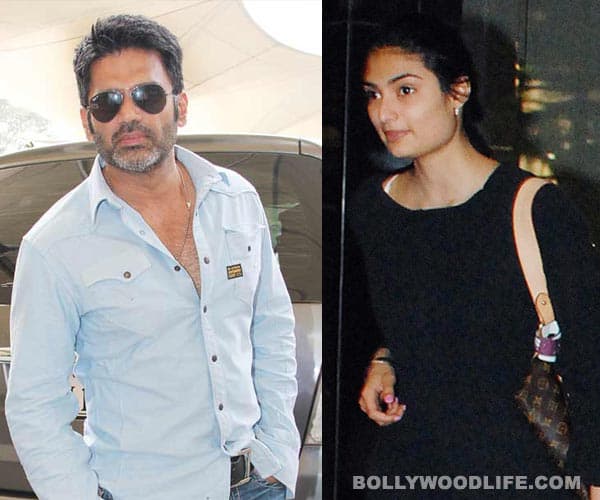 Suniel Shetty recounts his daughter's first day of shooting
Athiya Shetty, daughter of Suniel and Mana Shetty, started shooting for her debut film Hero this week. The doting parents were present on the first day. It was an emotional day for papa Shetty. The tough, he-man got emotional as his daughter faced the camera for the first time. Says an eye-witness, "After acing the shot, Athiya hugged her mom and said, 'I feel like I was born to do this. I am so happy.'"
Suniel tells proudly, "Athiya is a natural. She is extremely confident in front of the camera. Her first day of shoot (at the Gateway of India) was easy-breezy for her. It was an extremely emotional moment for me… I am always emotional when it comes to my family. We come from a small, close-knit family, where every joy and sorrow is shared. My father is bed-ridden and Athiya makes it a point to keep him informed about everything that's happening in her life, every single day. The children are very close to their grandparents as we all live together."
He talks about the prep for the film, "Athiya and Suraj (Pancholi) had workshops for months before starting the film. Mana and I didn't visit her at the time. In the evening, she would come back and tell us about her day. She discusses everything with us — from her role to her drama, kathak lessons and rehearsals. Every evening, she needs two hours with me and Mana to tell us about her day. That's why I finish my gym in the morning. I am happy that she's following her passion like I did. I am allowing my children to do what they want to do. For Athiya, it's not just her passion but her livelihood too."
The proud papa says that he hasn't given his darling daughter any tips about surviving in the industry, "After a hard day's work I just want to know if she enjoyed it; which she does. I don't want to give her tips on acting. I only want both my children to conduct themselves in the right manner because that will earn them the respect they need to survive in this industry, like I did. Even after giving hits I chose to do films with new directors. I have always lived my life in a certain way and I would want her to do the same. There's no shortage of work or good directors to work with, one just needs to be patient and believe in oneself.
She's very fortunate to have someone like Reshma Shetty managing her work. Reshma is not just sensible and selective, she is like a mentor, guide and family member for her. I came up the hard way as I worked with my dad in his restaurant, managed my own store and I said yes to over 100 films. I have always been very protective of Athiya and Ahaan and though it's very important that they choose the right films, I don't want them to see the Friday that hurts. I want to keep them away as far as possible from that Friday."
Remembering his first day….
"My first day was a disaster! We were shooting in Ooty for Arzoo with Shatruji, Raj Babbar and Naghma. They tried to make me dance! I was terrified. The choreographer KL Raj didn't realise that I just couldn't dance. I was a mess in those days. I had hardly gone to acting school. Whatever I learned was from Roshan Taneja. I was clueless about camera angles, lighting etc and I just went with the flow. I am still going with the flow… Luckily, they understood I couldn't dance and made me improvise with some dance steps that made me walk with my arms open that later became my signature step. I was so scared… I didn't know whether I had made the right decision… I used to get nightmares thinking what if I am a disaster? My father, however, always encouraged me to follow my passion."
Story Source: DNA