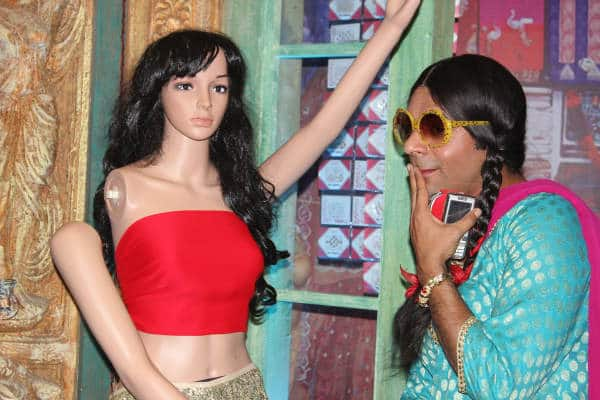 The comedian quit playing a character that made him famous to co-produce his own show. Will this gamble pay off? Only time will tell…
Sunil Grover-aka-Gutthi-aka-Chutki wants to avoid all controversies, but they just don't seem to leave him alone. Frankly it seems, the media has just not had enough of him. The man loves dressing up as a woman only to entertain his audiences, which is his only mission in life – we believe you! The actor-comedian talks about his new character for Mad in India – Chutki, his stint as Gutthi, the secret behind his comic acts and more…
What is the basic concept of Mad in India?
Mad in India's concept is a lot of madness. We will invite celebs and have fun chats and activities with them. It will be an entertaining and interactive session, handled by Manish Paul along with some established comedians, who will put up a great show.
Do you miss playing Gutthi?
No, I am not missing it at all.
How similar are Gutthi and Chutki?
They are not similar at all. Don't you think so?
Are you going to try something new and different from your previous character, Gutthi?
Frankly, I am not thinking about anything new or old. I have the same objective that has been with me since ages – I want to entertain people and bring a smile on their faces. I will bring to the forefront, only things I know; there is nothing new to bring. I will show people what they like; of course, with some new elements.
So do you believe that Gutthi was your creation?
What is there to believe? See if a gardener waters the plants does it mean he has created the plant?
Will you be bringing any of Gutthi's known traits to Mad in India as Chutki?
We will do a lot of things like that.
Will Mad in India be giving social messages?
There will obviously be a social message. We will be bringing important topics on the show using satire, but it will not be forced. It will make people laugh and that is our first agenda.
Why did Yuvraj Singh turn down the offer to come on the show?
There is a celebrity management team for the show, who deals with these things. You should ask them that.
Ever since your exit from the Comedy Nights with Kapil and the announcement of your new show, there have been a lot of eyes on you with huge expectations. How does that make you feel?
Frankly, I am nervous. I won't call it pressure, I'd call it responsibility. At the end of the day I enjoy my work, I love what I have been doing and I will continue. I will forget everything else, just be myself and enjoy on the stage and make people laugh.
 Why did you choose the 9 pm time slot for your show?
That is not something I decide. But I believe nine is a good time to air the show where you sit with the family and enjoy it.
Are you planning to do any other fiction shows or movies?
I am doing one or two films, but I really do not want to talk about that right now.
Why is it that you don't come onscreen as Sunil Grover?
I am somebody who entertains people through various characters and not as me. Behind every successful man there is a woman, but behind the success of my female characters there is a man.
You could have continued as Guthi, weren't you upset when things didn't work out?
Who said I was upset? See that was the decision of the creative team. They decided to put things in a certain format, that's all.
I am a full grown man on the inside. I look at a lot of girls and prefer looking only at them.
You are a funny man no doubt, but does it bother you when people don't take you seriously?
No! I have been challenging myself since ages. Initially I used to do just voiceovers, then I started doing different characters on radio which was appreciated. Then I did a show where I hosted Shahrukh Khan. After that, I did a couple of characters but the outcome of any of my work is not in my hand. So why think about it, I simply love what I do.
Is it lucky for you to play a woman?
I would call it lady luck.
Who is the lady luck in your life?
It starts with my mother.
What about your wife?
She only looks at the cheque (laughs).