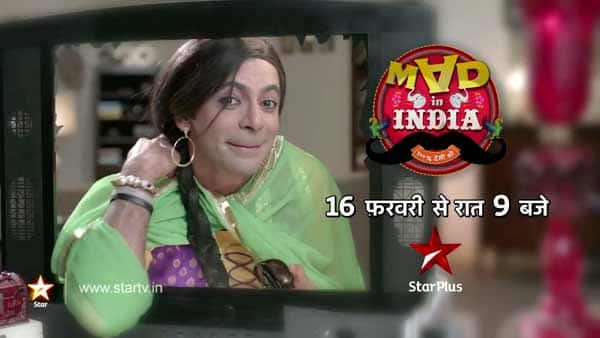 Sunil talks about the concept of his new show, competition with Kapil Sharma and more
Everyone, including us, has been waiting to watch Sunil Grover's new show Mad In India. Well, it looks like our wait is finally going to end in almost two weeks, as Mad In India will be telecast on Star Plus from February 16. The show will be aired every Sunday at 9pm and if you remember, Karan Johar's hit chat show Koffee with Karan 4 is also aired at the same time.
So when Sunil was asked about this impending clash between his show and KWK in an interview with a daily, the funny man in his usual jovial mood said, "It's okay. Viewers can watch Karan Johar's show during the commercial breaks," haha..!
As we had already told you, Mad In India will see Manish Paul as the host, while some comic actors and along with established stand-up comedians like Dolly Ahluwalia, Khayali Sharan, Rajbir Kaur, Siddharth Jadhav, a new comic find Suri, will also join Grover to generate laughter on the show.
Ask Sunil about the concept of his new show and he says, "The idea is to feature an assortment of comic talent, established and new. We've got relatively fresh comic actors like Rajbir and Suri alongside established names like Dolly Ahluwalia and Siddharth Jadhav."
The stand-up comedian who has transitioned from Gutthi to Chutki in Mad In India, says that he is not competing with Kapil Sharma's Comedy Nights With Kapil. "Of course there will be comparisons between the two shows. They both occupy the same smiley space. But my endeavour is not to be one-up on Kapil. In fact I'd like viewers to watch both our shows. Jitni hansee hogi utni khushi hogi. The idea is to bring laughter into viewers' lives as long as I can do so without resorting to vulgarity or cheapness, I am happy," Grover was quoted by the daily.
Anyway, it's good that Sunil has let the bygones be bygones. Meanwhile watch the newest promo of Mad In India featuring Sunil as Chutki here, and tell us if it makes you all the way more excited for the show.
[flv]http://st1.bollywoodlife.com/wp-content/uploads/2014/01/Mad-in-India-Promo.flv[/flv]