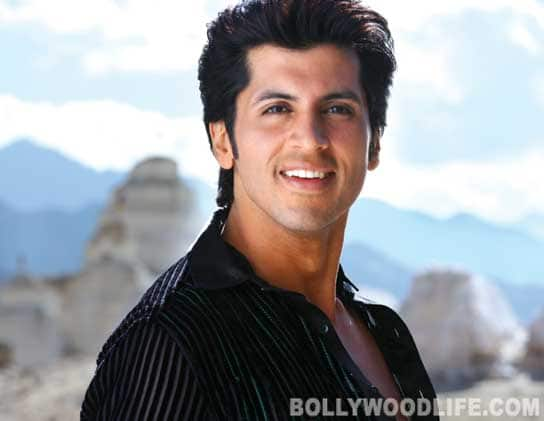 This handsome Punjabi munda makes his acting debut in Jo Hum Chahein as Rohan Bhatia, who is a womaniser and in a hurry to make it big
He speaks about his initial years of struggle, his love for cinema, being a compulsive flirt, his days in modelling and his special friendship with his co-star and former Miss India, Simran Kaur Mundi.
When did the acting bug bite you?
Ever since I was a kid I wanted to be an actor. Just the thought that I could be so many people in one lifetime by being an actor excited me no end. I didn't land this role just because the director of my debut film is my brother, Pawan Gill; I had to go through the grueling grind of auditions et al.
We heard that your brother approached established actors for this film…
Yes, my brother is a thorough professional who has trained himself by working with Yash Raj Films. He initially wanted to cast an actor who had some clout, but later on when I read the script and connected with the character of Rohan Bhatia, I auditioned for it, like any other actor, and got the part.
Did you really struggle in your career?
Well, I had my share of struggle in the early stages of my career. There was a phase in my life where I was being rejected all the time. People gave the weirdest reasons for rejecting me; someone would say I am too tall for the role, some other would say I am too thin and on and on. But I went for auditions nevertheless, for any and every role. That's when my modeling career took off. I started doing a lot of fashion shows, which helped me get some music videos and advertisements. The life changing moment was when I was spotted by fashion designers Abu Jani and Sandeep Khosla. The day I walked the ramp for them, people began to look at me in another light. Soon after, I was signed up for a film by a leading production house (I cannot talk about it now, as it is a little early in the day).
Tell us about your role in Jo Hum Chahein…
I play the character of Rohan Bhatia, who is a womaniser and is looking for shortcuts in life.
You said you related to the character, does it imply that…
Well, who doesn't want to be in the company of beautiful women! I totally enjoy the company of women and I think I can chat with any girl, anywhere. Some people mistake my confidence for arrogance or cockiness, but the fact is that I am comfortable in my skin. You can call it what you like, but I know what I want in life and how to get it.
Contrary to rumour, your Jo Hum Chahein co-star Simran Kaur Mundi told us that you two were just good friends…
I really don't know what she means when she says 'good friends'. She has been a wonderful co-star and though initially we were a little uncomfortable, once the ice broke, thanks to the acting workshops, we developed a chemistry that you can see in the trailer as well. I learned a lot from her. Simran is a beautiful girl and I like to spend time with her. She is more than just a friend.
What kind of characters would you like to play?
I would like to play characters that have a substantial journey within the film. Characters like Sanjay Dutt's Raghu in Vaastav, Ballu in Khalnayak; Bachchan sir's characters in Agneepath and Deewar excite me no end. I would like to do films that have an intense dramatic angle. My debut film, though essentially a romantic comedy, it has some drama in it as well. I would like to work with filmmakers like Rajkumar Hirani, Anurag Kashyap, Vishal Bhardwaj and the like; the ultimate honour would be to work with Yash Chopra, who has made such great films.
Any anecdotes you would like to share…
Throughout the shooting of the film, I kept pulling pranks on Simran. She is a bit forgetful and would leave her mobile phone wherever we were shooting. I would hide it and she would be sulking all the time, till I finally returned it to her. There was a scene we were shooting, where I had to dive into the pool and my swimming trunks came off. The camera was on and I was being shot butt naked. Reminded me of the time when Ranbir Kapoor dropped his towel for Saawariya! When we saw the scene on the monitor, I told my brother that we should use the scene, as it looked good, but he insisted on a re-take. I had my first brush with a fan while we were shooting the Aaj bhi party song at a disco in Pune. A girl came screaming towards me and hugged me, saying that she is a fan. I was taken aback, but I thanked her. She asked me for an autograph and when I asked her for a pen and a paper, she gave me a pen, pulled down her top and asked me to sign my autograph on her heart. It was a little too bizarre, especially for someone like me, but I obliged anyway….