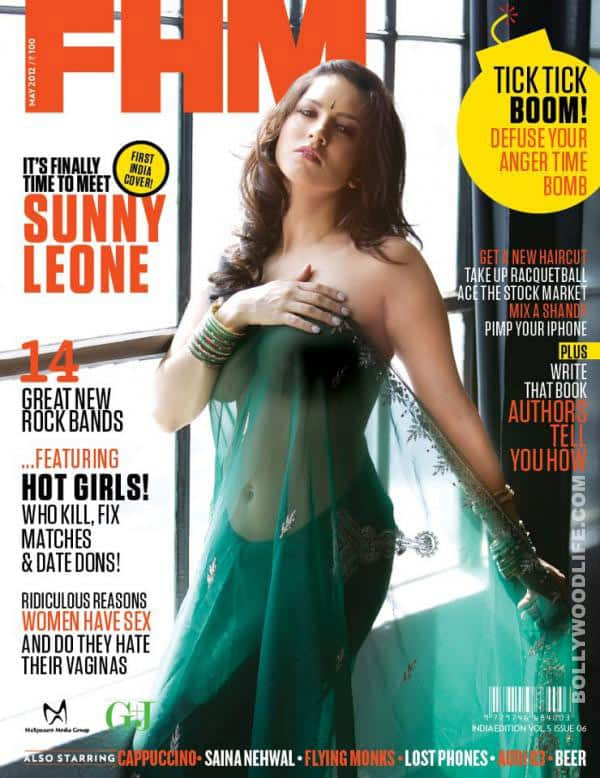 It seems the Jism 2 seductress doesn't want to move far from what she's famous for – titillation and lots of chutzpah
Scandalously similar to Savita Bhabhi, India's most-watched porntoon character, Sunny Leone in a peek-a-boo green drape caught our attention right away! Standing in front of bright windows with the dazzling white light descending over her partially covered torso, Sunny has chosen to go seductively desi for the cover of the popular men's magazine FHM.
While the bindi, the bangles and the transparent sari say a lot about Sunny's wish to make it big in Bollywood, a closer look at the picture reveals the Canadian import's lethal intentions. Remember, the 31-year-old gal promised that she would not go back to the business of adult films, but going by this cover we think Sunny is not letting her pornstar tag go.
The Bigg Boss 5 sensation recently shot a steamy bedroom scene for Pooja Bhatt's upcoming film Jism 2 and now she sizzles by striking this scorching (and tacky) pose for the cover shot. Her amazing body and the carefully crafted portfolio are Sunny's biggest trump cards and she knows how to play them right. First she goes underneath a wet fabric in the buff and shoots Jism 2's sensational poster and now she places a translucent green fabric quite strategically on herself to create a buzz. We don't know much about her acting skills, but Sunny is fabulously amazing at doing a cover up job. Her fans may disagree!