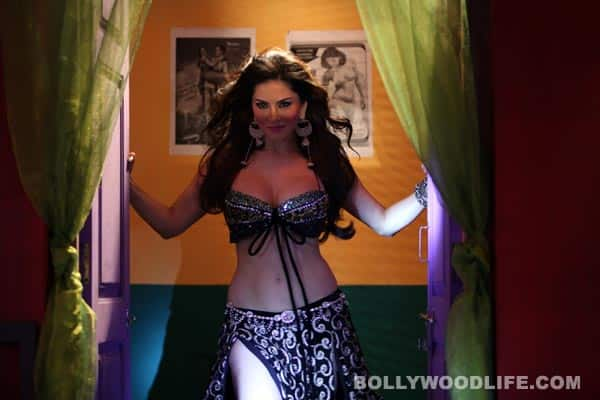 skip advertisement
The Canadian adult-film actor Sunny Leone has been remodelled to become a Bollywood babe. The sexy siren has also taken on a new role – of sizzling item gal for Sanjay Gupta's latest, Shootout At Wadala, and she's doing product endorsements too! Take a look at Sunny's hottest moves from blue-lit studios to Bollywood sets…
Ever since Sunny Leone stepped into the notorious glass-walled house of Bigg Boss 5, all eyes were focussed on her for fairly obvious reasons. The Canadian pornstar with desi lineage had arrived in the comparatively conservative land that is India, where sex is accepted only when disguised cleverly as an item number in movies. So it was but natural that B-town's directors were keen to rope in the babe who was comfortable doing more than just token skin show…or that's what her portfolio suggested.
Filmmaker Mahesh Bhatt, in a first ever, entered the Bigg Boss's house and offered Sunny a role in his daughter Pooja Bhatt's supposedly steamy directorial venture Jism 2. The film not only got the sexy siren easy entry into the glamorous world of Bollywood, but also made her a household name, a face – and figure – almost everyone could recognise. We take a look at Sunny's quick progress, the clever moves that have turned a babe from a highly rated porn star relatively unknown in India into a hot and happening B-town gal and now into an irresistible item bomb…
The adult movie star: From Penthouse Pet to porn queen, Sunny has been rated as one of the most desirable adult film actors of all time. In fact, it was Sunny's colourful portfolio that got her a ticket to the controversial reality show Bigg Boss…which changed her life forever.
The reality show sensation: Though she remained very quiet during her Bigg Boss stint, Sunny was silently seductive and manipulative with her calculated moves throughout the show. Her charm was so infectious that even her enemies in the house were seduced by her hawtttt presence.
The Bollywood babe: Pooja Bhatt's Jism 2 failed to live up to all the hype around it, but it definitely opened doors for Sunny to start her Bollywood career. Audiences expected more sizzle from this purportedly erotic movie, especially given Sunny's previous body of work, but they were let down by the oh-so-thanda reality of the content. Nevertheless, the visuals of Sunny getting a back massage from Randeep Hooda in a cosy cottage in Sri Lanka gave her fans enough to cherish more…err…interesting visions. And after Jism 2, Sunny signed on the dotted line for Shootout At Wadala and Ragini MMS 2. We await more.
The brand: Just like her enviable popularity, Sunny's brand equity too has started gaining momentum with every passing day. If you have seen her moaning – very convincingly – in a condom commercial, you will know that birth control in India is set to take a quantum leap. And you will soon see her endorsing actor Sachin Joshi's energy drink XXX. Considering the name of the drink has an uncanny similarity with Sunny's commendable work in the adult film industry – that she assures us she will not abandon – we are eager to see what this commercial is all about, visually speaking!
The item gal: In an industry where item babes flourish, honing their suggestive pelvic thrusts, heaving bosoms and jiggling bottoms, Sunny's new item number Laila teri le legi with the hunky John Abraham in Sanjay Gupta's Shootout At Wadala looks promising. We are looking forward to seeing if Sunny's steamy Laila could brew up a storm with her sizzling steps in the days to come!