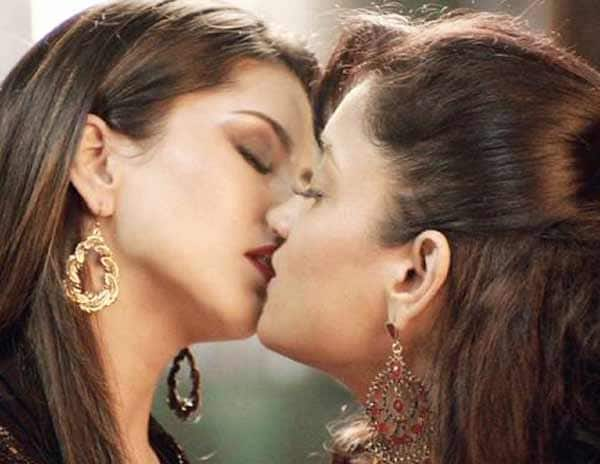 The Jism 2 actor seems very comfortable locking lips with everyone
Sunny Leone has not left any stone unturned in Ragini MMS 2. A few days back we saw the sexy Sunny Leone's orgasm scene pushing the crew out of the sets. Also we had informed you that Richa Chadda and Neetu Chandra declined working for Ragini MMS 2 because they were asked to do a lip locking scene with the sexy Sunny Leone. Our khabroos now inform us that the sexy Sunny Leone has planted a passionate lesbian kiss on Sandhya Mridul's lips. Interesting no?
In all her B-Town movies Sunny Leone has always had steamy scenes and was open about kissing her male co-stars right from Randeep Hooda to Sachiin Joshi to Saahil Prem. And now she is all ready to show her sensuous liking for the same sex as well. It may not be very difficult for the former porn star, but it sure must have been tough for Sandhya Mridul. But as always Sandhya was ready to do whatever the script demanded. After all that's what good actors are supposed to do. Hai na?
If we recall, Randeep Hooda was seen sharing a gay kiss with his Bombay Talkies co-star Saqib Saleem. We can't recall any other such kissing scenes where actors of the same sex were seen kissing each other because "the script demanded it." Only time will tell whether this lesbian kiss would incite some sensuousness among the audience and make the movie a hit, or will it be pretty much thanda and arouse only controversies. For now, go ahead and have a look at the sexy Sunny Leone plant a kiss on Sandhya Mridul's lips!