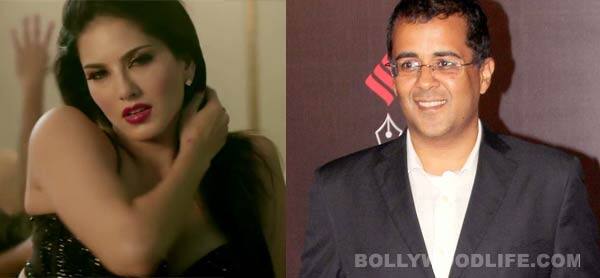 The popular Indian author seems to be smitten by the former porn star
Sunny Leone's Baby doll song from her latest horrex film, Ragini MMS 2 became an instant hit and went viral on the internet. All thanks to the attractive combination of Ms Leone, peppy beats and quirky lyrics. The song was also spoofed by a group of 7 young engineering students in a rather wacky way, and the spoofed video became popular on the social networking websites.
And now after those 7 young blokes, Chetan Bhagat is also quite impressed by the former adult film star. Yes, it's not the songs from 2 States that Mr Bhagat is listening to these days. Rather, he is busy watching Sunny Leone's Baby doll number on YouTube, we hear. "When you are super stressed, sometimes the only thing that works is watching Babydoll in a loop (interspersed with political ads) on youtube," tweeted the famous Indian author, whose filmi version of 2 States starring Arjun Kapoor and Alia Bhatt will hit the theatres tomorrow (April 18).
Well, we aren't really surprised. After all, you can love or hate Sunny Leone, but you definitely can't ignore her!