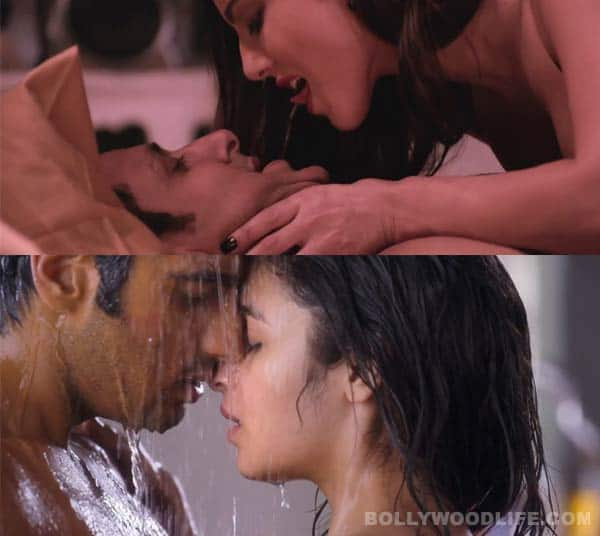 We know this comparison might surprise most of you considering Sunny is a former pornstar and Ms Bhatt is a spunky young lass who is just 21. Besides the fact that both of them are actors, the latter is giving a stiff competition to the former as far as making love is concerned of course on 70mm
Former Canadian adult star turned Bollywood actor Sunny Leone is gearing up for her big release Ragini MMS 2 which will hit the theatres next week. The sexy siren has been in the news ever since the very appetizing trailer of her horror flick was released. And we bet each one of you must have seen it. Wink wink! The first official trailer showed the Jackpot babe passionately making love with her onscreen hero and seducing him with her oh-so-hot moves. That's not all! Sunny got the temperatures soaring with her almost-stripped avatar in the video. While the makers are calling Ragini MMS 2 a horror genre film, wethinks it is nothing less than a skin-show fest and in filmi language a hardcore erotica wherein the former porn queen Leone is leading from the front…errr from everywhere. But let's not get into that. Coming back to sexy Sunny, irrespective of her past profession, the starlet sure knows the art of making love. With bold kisses and many intimate scenes in Ragini MMS 2, one thing is clear – Ms Leone is good at making love.
But just when we thought Sunny is the female version of serial kisser Emraan Hashmi in Bollywood, Mahesh Bhatt's beti Alia Bhatt grabbed our attention. And boy she is giving the Jism 2 actor a run for her money. Don't be baffled, haven't you seen the trailer of her latest film 2 States co-starring Arjun Kapoor? Yeah that's what we are talking about. This B-town beauty is just two films old and while most heroines in her place would dread to slip into a bikini, Alia has gone ahead and done steamy scenes in Karan Johar's next. Frankly speaking, we were indeed taken aback when we saw the first saw the trailer of 2 States. From stylish coy college gal in her debut film Student Of The Year to getting all cozy and sharing intimate kisses with Arjun in 2 States, Alia has certainly taken a big leap in no time. But we aren't complaining coz Pooja Bhatt's lil sister has pulled off the love making scenes quite aesthetically. At least that's what we can say going by the trailer and songs of 2 States. We dunno if the Highway star is good lover off screen but onscreen she makes you go weak in your knees with her romantic avatar and all the nakhras that come along with it.
So on one hand; we have the bold and the sexy Sunny flaunting her assets in Ragini MMS and then we have the very cute and gorgeous Alia in 2 States. Contrary to Sunny, she doesn't believe in sleaze show but knows how to make her guy fall in love with her. In this case, it is her onscreen lover Arjun.
So Bollywoodlifers tell us – who according to you is a better lover onscreen?
PS: We aren't going to be judgmental so vote keeping that in mind. Giggle…