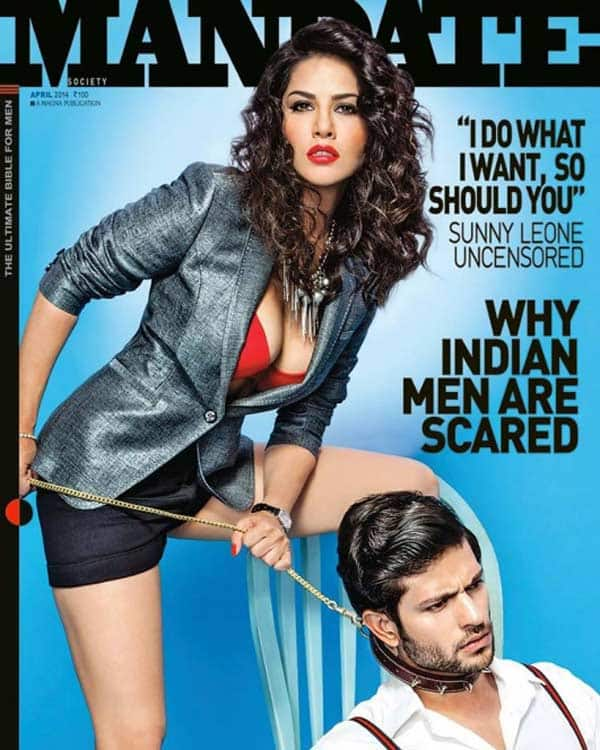 The Baby doll actor has posed as the covergirl for a men's magazine and well, we're sure she has grabbed eyeballs
Sunny Leone has turned a bondage girl for Mandate this month. The former porn star is seen in an avatar that she is best known for. Obviously, she isn't featuring on a bridal magazine but on a men's magazine in an extremely raunchy avatar. The sexy Sunny Leone is flaunting her pins in shorts. On the top, she's showing off her cleavage by wearing a red bikini under a one-button silver-grey blazer coat. Oooh, those curls are hot, no? Wethinks that the already sexy Sunny looks all the more hotter with curls. Don't you agree?
But that's not what we loved the most about this cover. We like how the Ragini MMS 2 actor is holding a man on a leash with a spike collar around his neck. Well, the naughty men are sure gonna love this. After all, who wouldn't like to be on a leash which is in Sunny's hand, hai na? Giggles! And there's no B-town lady who can beat that seductive expression. After all, Leone has years of experience in the department to seduce, no? No complaints though…
The cover has Sunny's quote, "I do what I want, so should you." And a tagline states, "Sunny Leone uncensored." Well now, those are some heavy words from Leone, no? We hope we don't have politicians, known for scams, pelting stones at this seductress for saying that. With election fever everywhere, we have politicians saying that rape is a mistake that boys happen to do, but hanging them isn't right. Next, we'll have them blaming this sex icon for such mistakes, which boys are allowed to do in our nation, hai na? Tch tch!
Anyways, we love Sunny Leone's confidence and attitude in the poster. And we love her for what she is, totally bindaas irrespective of what people have to say. And while we won't shy away from saying Sunny Leone looks like the ultimate sex Goddess on the Mandate cover, we're sure we'll have men and politicians criticising her for posing like this. But of course, they'll be calling it a night by cuddling next to the same cover. Wink, wink!
Well, what do you think of Sunny Leone on Mandate's cover, BollywoodLifers? Hot or not?