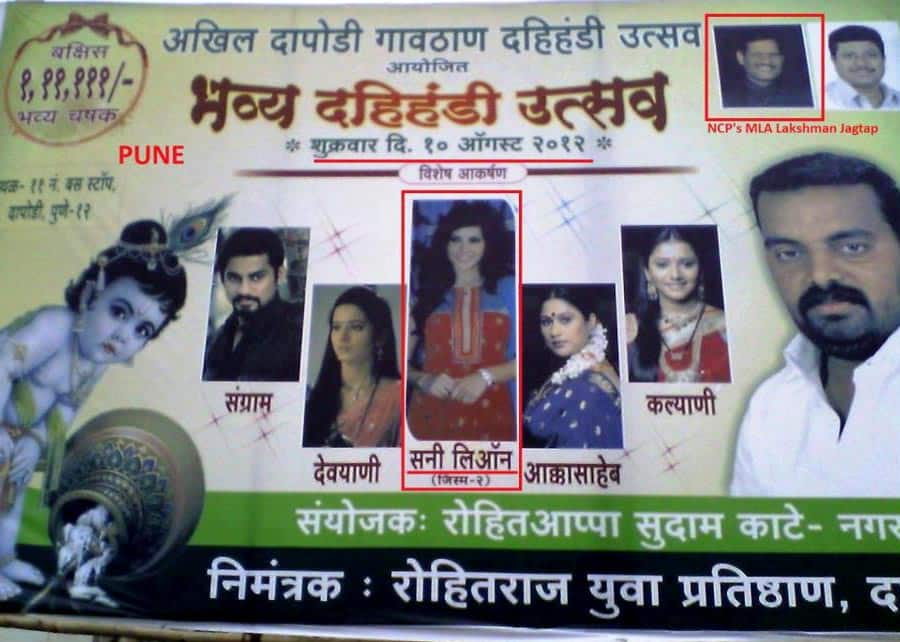 The so-called torch bearers of decency might stop you from watching a movie that features this A-rated star. But they do not bat an eye lid before using her stardom for publicising a traditional event
While NCP in Mumbai was busy taking off the sizzling Sunny Leone posters from the bus shelters, members of the same political party in Pune were busy putting up hoardings that advertised Sunny's presence as the chief guest for Janmashtami. Ahem ahem.
What's more, not only is Sunny invited to grace the religious procession at the dahi handi, but we are told that she has also been paid an amount of Rs 5 lakhs for the same! "We have a group called Akhil Bavdhan Dahihandi Mandal and every year we celebrate the festival on a big scale. This year we decided to bring Sunny Leone and through one of our friends, we managed to rope in the Jism 2 actor and decided to pay Rs 5 lakh for her presence," local NCP leader Kiran Dagade Patil said. Whoa!
But we weren't the only ones who frowned at this double standard. "There is a drought-like situation in the state and it is surprising to know that people are ready to spend Rs 5 lakh to invite a celebrity as a chief guest," NCP MP and former city party president Vandana Chavan said. Sigh!
Now as this political party oscillates in its stand on the Jism 2 actor, we wonder how Ms Leone feels about it all. Care to confide in us, dear Sunny? And psssst… do we see Pooja Bhatt doing her li'l jig in the corner?