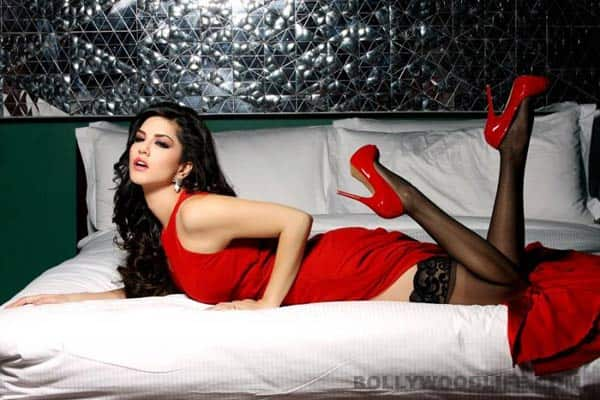 skip advertisement
The Jism 2 starlet showcases what to expect from her forthcoming steamy release by posing seductively for the cameras
Sunny Leone goes red-hot, literally! The Canadian import looks ready to set the silver screen ablaze with her relentlessly hot looks. While Sunny's fans can't wait to watch their favourite (porn) star gearing up to seduce them with her steamy scenes in her much talked about film Jism 2, the adult film star shows her lava-hot bod in a sexy red outfit to keep men hooked!
We see Sunny aka Karen Malhotra in a blood red, titillating evening gown that reveals more than it hides. With her best side clearly on display, Sunny sits on a pristine white bed, adopts a cross legged position and looks into the lens seductively. Her garish red pout and dark eyes spell a thousand naughty words. And how could you forget the sexy translucent silk stockings nicely paired with a pair of contrasting red stilettos? The babe surely knows how to (s)team it up!
Blame it on her colourful portfolio or her rare genetic makeup (or perhaps her cosmetic surgeon?) – Sunny looks gorgeous, even divine in every frame. In another picture she chooses to utilise the bed ….and words fail to define the feelings she evokes. Take a look and tell us if Sunny should stay in Bollywood to continue to'entertain' us even more!