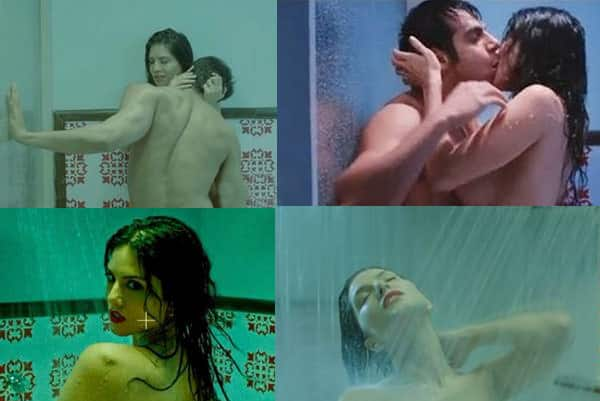 Call it the intelligent use of technology or blame it on Sunny's reservation to go bare-breasted, the shower scene from Ragini MMS 2 will feature no nudity!
Those who have seen the trailer (the online version) of Bhushan Patel's Ragini MMS 2 must have feasted their eyes lavishly on Sunny Leone dropping her bare essentials as she gets ready to have a shower with Karan Mehra. The aforementioned scene has lots of steam and sizzle to it where Sunny is seen locking lips (liplock is an understatement in this case, actually) with a half-naked Karan in her topless avatar as the two are seen making passionate love in what can be called a 'key moment ' of the horror flick. But here's a bit of news-that has come to us straight from the sets of this 'horrex' –that can hamper your raging mojo in a jiffy.
Apparently, Sunny had reservations about going bare-breasted for the said scene and was not particularly comfortable shooting it. Finally, the makers decided to use skin-coloured pasties with matching silicone for the much needed nude effect. We also hear that over 17 cameras were used to capture the babe in a perfect…ahem ahem position. Just so that they could convince the audience that Sunny was indeed topless in the shower, director Patel took six long hours to capture Sunny in the 'desired' way.
Looks like the pornstar is getting jitters when it comes to 'revealing' her bold side to the world and Bollywoodwallas at large. While Patel did not complain about Sunny's reservation against going topless, we can see the 'hardcore' Sunny fans going tch-tch in their collective naughty heads.