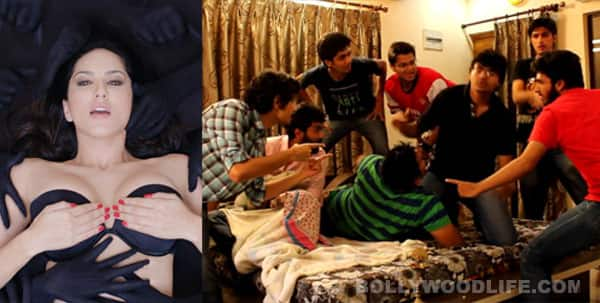 The Ragini MMS 2 babe who has earned a lot of appreciation by fans and at the box office can smile a little more after watching a spoof of her hit song Baby doll from her horrex
Sunny Leone's Baby doll act in Ragini MMS 2 song went viral. Thanks to sexy Sunny's presence and peppy fun number rendered by Meet Brothers Anjjan and Kanika Kapoor this song was an instant hit. While the makers of this song were accused of getting Ms Leone to ape international artist Jennifer Lopez, the actor has now inspired seven young guys to up the sex quotient in a spoof of the Baby doll number.
Entertaining and extremely wacky, this video does not feature the ultimate seductress – skimpily clad Sunny, but seven fully dressed young boys. Unlike Sunny's jazzy set, the spoof is set in what looks a like a bedroom that is crammed by these tall young guys all of who were either bored or just wanted to have some fun with Sunny and take a break from their studies.
While a couple of them try hard to match Sunny's oomph factor, which is unique to the pornstar turned Bollywood babe. However as far as entertainment and choreography is concerned we're sure that the spoof will score a little more than the movie song.
All we can tell Laila is that imitation is the best form of flattery and we're sure that Sunny will be flattered to find her fans entertained, right BollywoodLifers?
Here watch the desi boys version of Baby doll and Sunny Leone's Baby doll song from Ragini MMS 2!