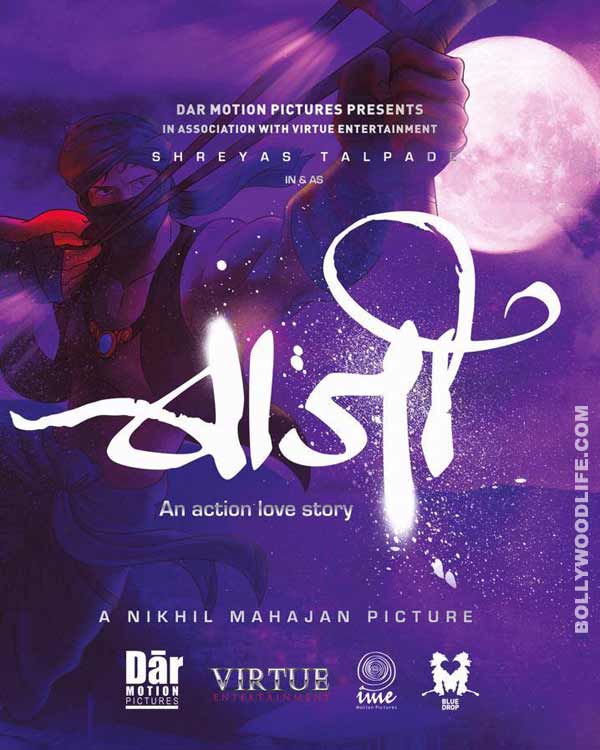 The Marathi film industry is in very good health indeed!
The discerning audience for Marathi films embraces critically acclaimed films and rude comedies with equally open arms. From a box office perspective, Ravi Jadhav's romantic comedy Timepass, made on a budget of just Rs 2 crore (a figure reasonably high by Marathi cinema standards), has collected Rs 29 crore and is still counting, making it the highest grosser in the history of the industry. Surely, a Bollywood remake is in the works.
Now, Nikhil Mahajan's superhero film Baji seems set to raise the bar higher. As previously announced, Bollywood discard Shreyas Talpade will play the eponymous superhero. Talpade is due a Bollywood outing this year with Bhaiyyaji Superhitt, but that film features Sunny Deol and Preity Zinta as the leads and therefore, there is no guarantee when, if at all, it will release.
At the film's production launch in Mumbai, Talpade charmed one and all with his disarming smile and ready honesty. He revealed that he'd asked for the Baji script a while ago and was waiting for it for several weeks in vain. Producer Suhrud Godbole asked him to check his spam filter and there it was lurking. Talpade read it in one sitting, called up Godbole and said yes on the spot.
Talpade describes his character as a common man, aam aadmi if you will, to use the term before it becomes unfashionable. Baji has no superpowers, just strength of will and a strong sense of justice. Talpade likens him to Zorro and Phantom, rather than those superheroes with chemically induced or God-given superpowers. Indeed, Baji's weapon of choice, as revealed in the teaser poster, is a humble slingshot.
Playing the village belle to Talpade's Baji is Amruta Khanvilkar. Marathi audiences will remember her fondly from Aayna Ka Baayna, Satrangi Re, Zakaas and Shala, while Bollywood enthusiasts with a long memory may recall her from Phoonk and Phoonk 2 and masochists from the Himmatwala remake.
It takes a serious amount of money to make a superhero film and the main backers are DAR Motion Pictures, producers of quality films like The Lunchbox and D-Day, with a budget rumoured to be more than double that of Timepass. The film will be a departure for Mahajan, as his debut was the mesmerising but artsy Pune 52, but he's promised a complete family entertainer.
From the sublime to the ridiculous – the public relations team behind Anubhav Sinha's Gulaab Gang, starring Madhuri Dixit and choreographed by Saroj Khan, has released this earth shattering news. "It is a dream to see Saroj ji and Madhuri Maam dancing together on the sets. But one day Saroj ji surprised everyone present on the crew. We were shooting for a song in Wai and after our day's wrap Saroj ji headed straight to the kitchen and cooked Raan Biryani for the entire crew. This is for the first time that Saroji has cooked on-the-sets and naturally everyone was thrilled about it! It was a very sweet gesture by Saroji to cook the yummy food and the entire unit loved it so much that they actually stood in a line and to get their hands on, confirms the source!!" Naturally, the quote is attributed to a 'source close to the production'.
There, as always, we bring the most important news to you in a timely fashion.