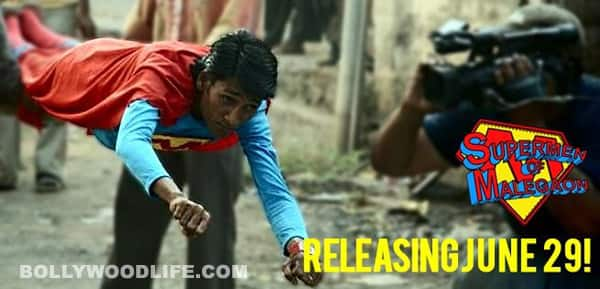 A documentary on the making of Malegaon Ka Superrman brings a smile to your face as you experience the way and whims of the delightfully quirky movie industry in the small town called Malegaon
An award-winning documentary film called Supermen of Malegaon, made by Faiza Khan in 2008, gets a theatrical release in 2012. A four-year gap between the making and release of a film – whether a feature, short or documentary – is not new. But that a documentary is getting a theatrical release in India is a rare phenomenon. And this is happening all thanks to the PVR Directors Rare project.
Supermen of Malegaon – essentially the making of the film Malegaon Ka Superrman – presents situations in which movies are shot in the alternative film industry of Malegaon, a small town with big ambitions. There is a simple honesty involved that often is funny. Although it's a documentary on the making, it seems like some shots were deliberately planned to generate a reaction. At the same time, there are some revelations and crazy situations that are authentic and hilarious. The documentary explores the difficulties the cast and crew faced while making their ambitious superhero film, but also gives an idea of the social background of the town and the mindset of its inhabitants. Also, there are a few genuinely funny and ironic situations that are better not revealed here. Watch the film to find out more!
The makers of Malegaon Ka Superrman wanted Matrix-like action sequences. While they couldn't do that, they did manage to make their superhero fly with the help of basic editing software. In fact, director Sheikh Nasir shot on a Chroma screen for the first time in his career. Sheikh is a man of guts and gumption, spearheading a film industry in the back of beyond that people there are proud of. But he does not want to come to Mumbai, he says. He is happy being king where he is. It's akin to Shahrukh Khan saying he does not want to go to Hollywood just for the heck of it.
The actor playing Superman, Shafique Shaikh, died of throat cancer last September. But he will be remembered for essaying the funniest Superman ever, because this hero is dark and thin and rather too weak to play the male lead in a film. But the meek and weak Shafique had the guts to do all the 'stunts' in the film. He jumped in water though he couldn't swim, climbed on an electric pole and hung in the air on a lathi against the Chroma screen.
Superman's 'heroine', a female actor called Trupti, comes from the town of Dhule; Malegaon residents don't let their women act. Trupti proudly says she is charging less than her norm – Rs 1,000 a day – just on the director Nasir's request. Talking on her cell phone amidst her sound bites, she reveals she can do a 'hot dance' for a film.
But a special mention must be made of Akram, the actor who plays the villain in Malegaon Ka Superrman. Akram shows spark and can easily move to Mumbai for prospects in television, if not the movies.
Music by Sneha Khanwalkar and Hitesh Sonik is spot on, and editing by Shweta Venkat is worth a mention. Incidentally, both and Sneha and Shweta worked on last week's release, Gangs of Wasseypur.
A full-fledged documentary on the Malegaon film industry was made several years ago and aired on Doordarshan. At the time there were no digital cameras available, and the directors shot on VHS cameras. Now filmmakers there produce films on handycams with tapes. They have not yet gone digital. It will be interesting to see the next phase of the industry. For now, enjoy the documentary Supermen of Malegaon, releasing in India in PVR cinemas on June 29, 2012. Malegaon Ka Superrman will also have a theatrical release in the future, backed by filmmaker Anurag Kashyap.
Rating: ***
* Poor – Avoid!
** Average – Give it a shot if you are desperate!
*** Good – One time watch!
**** Very good – Must watch!
***** Excellent – Don't miss!