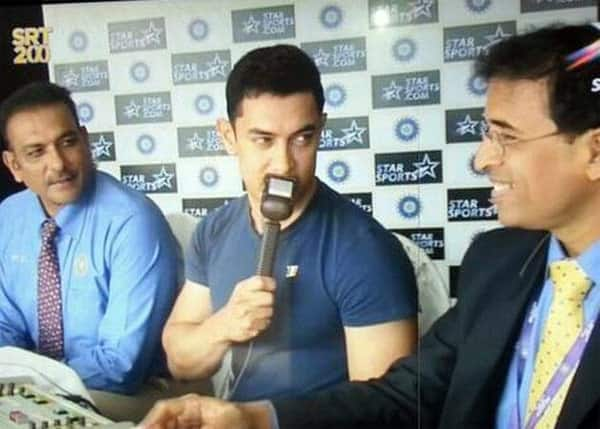 AK and his Dhoom:3 hat have been inseparable for a while now. No matter what the occasion, Aamir has been turning up wearing his trademark bowler. But when he arrived at Wankhede stadium to watch the Master Blaster in action, something was missing…
Aamir Khan wouldn't miss watching Sachin Tendulkar play his last match for anything in the world. After all, he is an ardent fan of the Master Blaster. But what is surprising is the fact that Mr Khan came to Wankhede stadium without his favourite Dhoom:3 hat perched on his head. Here's why: When it comes to cricket the Talaash actor, like thousands of other cricketing fans, is superstitious. Kiran Rao's hubby dearest wears a particular T-shirt when Tendulkar – and India – is playing. So when he turned up at Wankhede to see his favourite player on the field, Aamir wore the same T-shirt that he did when India won the semi-finals against Pakistan in the ICC World Cup 2011. In fact, he will wear that T-shirt for the next five days… till the match gets over. Presumably it will be washed in between!
Now we are maha impressed with Mr Perfectionist, coz the marketing genius could easily have used the opportunity to promote his film Dhoom:3. But he didn't. Well, looks like the newly minted baddie is indeed a true Sachin fan, hai na? We likes!
And that's not all. The actor-director-anchor even turned commentator for Sachin, aka the God of cricket. The Bollywood superstar joined Ravi Shastri and Harsha Bhogle in the commentary box and when he was handed the microphone he said, "The moment I got the dates of this match, I made myself available and made sure I come and see this. I knew I couldn't have missed it for anything. I'm a big Sachin fan and too was disappointed with Dhoni's decision to field."
Over the next few days a lot of B-town celebs are expected to drop by the stadium. For now, Lagaan director Ashutosh Gowariker is keeping Aamir company at Wankhede.