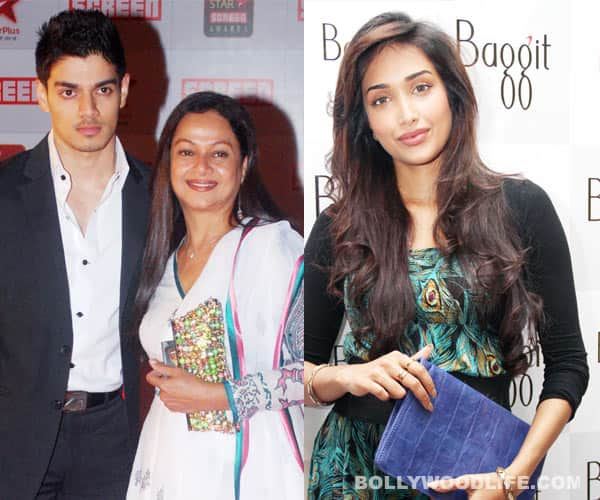 In a tell-all interview, the veteran actor speaks about the controversy surrounding her son's involvement with Jiah Khan and says let him suffer the consequences if he has indeed done anything wrong
Zarina Wahab says she agrees with Jiah Khan's mother that her son Suraj Pancholi was not the right person for the Nishabd actor, who died last week. Jiah committed suicide at her residence in Mumbai's Juhu area on June 3. She was 25. On June 13, a Mumbai court sent Suraj, actor couple Aditya Pancholi and Zarina's son, to judicial custody till June 27 on charges of abetting the suicide of Jiah, who used the word "rape" in a six-page letter.
On an impulse, Zarina decided to pay an unannounced visit to Jiah's mother Rabiya Khan aka Rabia Amin on June 11. The meeting between the two grieving mothers apparently didn't go too well.
When contacted, Zarina she said she had indeed paid Jiah's mother a visit. "But it was not to pacify her or to work out any compromise in my son's favour. If he has done any wrong let him suffer the consequences," said the Chitchor fame actor.
"No, I went just as one mother reaching out to another. I suggested we go inside the house because there were a lot of media persons outside. Rabiyaji was in no mood for any conversation with me. I wouldn't want to discuss what we spoke about."
On June 7, police recovered a note purportedly written by the actor speaking about her disturbed relationship with her alleged boyfriend Suraj.
Jiah's mother claims that her daughter took the drastic step not due to the lack of assignments, but due to her troubled relationship with Suraj. "When Rabiyajiji says my son Suraj was not the right person for her daughter, I completely agree with her. Jiah needed someone much more mature and experienced to take care of her," Zarina said.
"My son is just starting out. Jiah is supposed to have said in the letter that my son never loved her the way she did. I completely agree with that. Jiah was too much in love with my son. He just couldn't reciprocate in the same measure. But he cared deeply for her in his own way."
Zarina revealed that on May 18 Jiah landed up at the Pancholis' doorstep in an emotionally disturbed condition. "She told us she had quarreled with her mother. She was very upset. Suraj sat her down. He had a doctor's appointment. So he told others in the house not to leave her alone for a single moment. Suraj knew she could harm herself," she added.
Zarina also refutes Rabiyaji's claims that Suraj sent a "breakup bouquet" to Jiah on the ill-fated on Monday when she passed away. "That is nonsense. What is a breakup bouquet? Jiah told Suraj that she had signed three new films. Suraj told his assistant to order a bouquet and the card read, 'All the Best'. I know because I found out," she revealed.
"Suraj did not meet Jiah that Monday at all. So how could he have hit her? In fact, my son never raised his hand on Jiah or any women. I would disown him if he did. Her mother claims she has CCTV footage of my son visiting Jiah on Monday. Either she is hallucinating or lying. My son did not meet Jiah on the day she died," said Zarina.