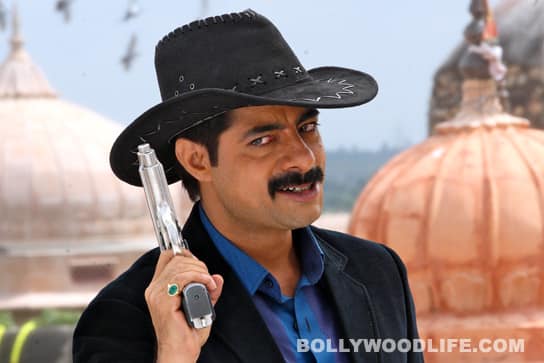 A specialist in character roles, Sushant Singh talks about how Durga Narayan Chaudhary (Jungle) and Pakiya (Satya) are as important and impactful as any larger-than-life mainstream hero

Having spent almost a decade in the film industry, Sushant Singh – the actor who came into the limelight after playing a vile villain in Ram Gopal Varma's Jungle – is pretty clear about his position. Emphasising the fact that character roles are as important as main leads, the actor believes that a movie is incomplete and lusterless without strong and well-etched-out characters. Singh may not be in the topmost league or part of the starry clique, but after talking to him you realise that he's more than content this way, 'coz it's not the Kapoors and Kumars who inspire him. He instead draws motivation from people like Om Puri and Naseerudin Shah – the kings of parallel cinema. We get into a freewheeling chat with Singh, who will soon make an appearance in Samir Karnik's Chaar Din Ki Chandni, and get to know more about the actor…
Do you miss playing the lead in an out-and-out commercial film?
No, not really. I pick and choose from whatever comes my way. I love acting and, honestly, I don't have the time to think about anything else.
You are mainly seen playing character roles; do you think such roles have any future in Bollywood?
I don't know about a great future, but a film doesn't work only because of a good looking hero. If that was the case, every film would be a hit. All said and done, you need a good story and strong characters. That's the reason films like Lagaan would work and a film like Blue won't. The industry might be hero-centric, but a film can't be solely based on that.
Actors have their own way of overcoming criticism. What is your strategy to divert yourself from vituperative comments you come across?
I have come across criticism, but very little of it. Whenever I do, I look at it objectively. I don't consider myself a perfect actor and neither are all films perfect. Being an actor is an evolutionary process and the day you stop learning, you are dead. Criticism is more than welcome, but not the nonsensical kind. It prevents me from becoming swollen-headed.
Do you think actors are more vulnerable and that makes sustaining yourself in the industry a difficult process?
I think you have to be vulnerable. If you are a thick-skinned person, you can't sustain yourself in any profession. Some actors hide their vulnerability really well; they come across as tough but, inside, all of us are softies…
Tell us about your role in Chaar Din Ki Chandni…
The story is that of a royal family. I am a part of it and play a man who's always angry, no matter what the reason is. The concept revolves around how the main lead Chandni (Kulraj Randhawa) comes along and teaches him to smile and be happy.
Which do you consider your best performance till date?
The Legend of Bhagat Singh has to be my best performance till date. That has been the most satisfying ever. Even today I can hardly find any faults in that role. I am sorry if I am sounding excessively immodest, but I think the director used me really well.
You gained recognition with your performance in Jungle; don't you crave for such roles that will give a boost to your popularity?
Absolutely! I keep on hoping and dreaming that some day such a role will come my way and people will applaud me and swoon over me again. I will keep dreaming till I hang up my boots.
People who inspire you in B-town…
There are so many of them. Anupam Kher, Om Puri, Naseerudin Shah and the one superstar I consider beyond everybody: Rajinikanth. The world has not seen such a star ever.
If it was in your hands, what kind of movies would you like to star in? What's a real state of utopia according to you, career-wise?
If it was in my hands, I would be in every movie except for the ones that have a bad storyline. I recently saw a movie called Bol; it was phenomenal and it gave me hope that there's still some space left for good cinema. A film like this coming from Pakistan – a place you only hear negative things about in the media – is great!