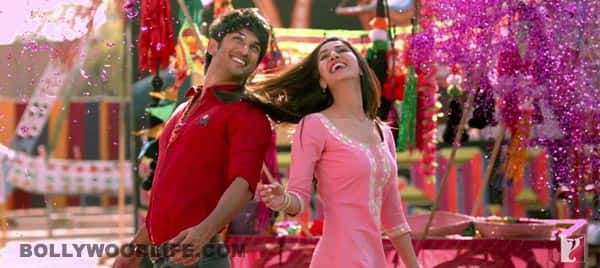 The two actors look madly in love with each other in Shuddh Desi Romance's latest song Gulabi. But what is this song all about?
In Shuddh Desi Romance, Sushant Singh Rajput's chemistry is unbeatable with both the female leads, Parineeti Chopra and Vaani Kapoor. While there's something HOT cooking between him and Pari, Vaani and Sushant look like the perfect Bollywoodwala lovebirds. Sushant-Vaani's Gulabi from Shuddh Desi Romance has a catchy tune but isn't there too much gulabi in it? It makes us wonder why these lovers are going gaga over pink… So, to add a little fun to this Gulabi number, we've translated it to English. Read and enjoy!
Main bhi gulabi, tu hai gulabi
Din bhi gulaabi hai gulaabi ye kehar.
I'm pink too, and you're pink
The day is pink and the havoc is pink too
Raah bhi gulabi ye naav bhi gulabi
Dariya me jo main bahoon gulabi
Kahoon bhi gulabi, main sahoon bhi gulabi
Lagtaa hai main rahoon bhi gulaabi..
This path is pink, and the boat is pink too,
I float in the river rosily too
I speak pink, and I bear pink too,
It seems I'll stay pink too.