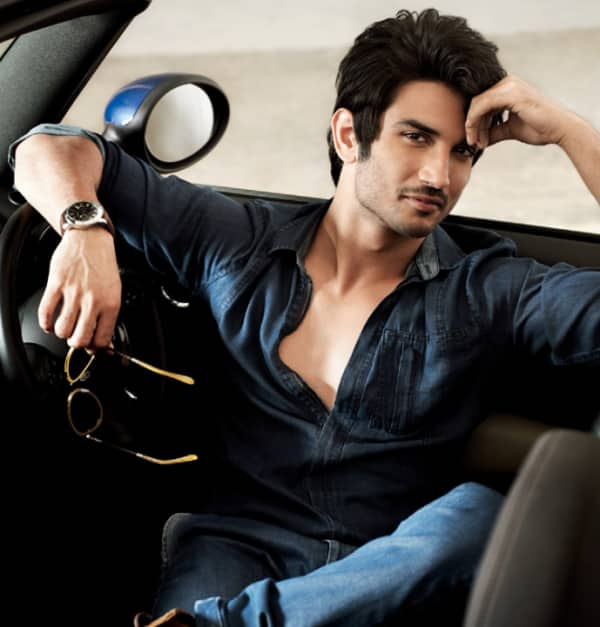 Sushant Sigh Rajput opens up about his career in Bollywood so far and the struggle he has gone through to achieve his dreams
He is the outsider. Sushant Singh Rajput is from Mumbai, but he doesn't have a Bollywood background or any godfather. His godmother in television, if she can be called that, was Ekta Kapoor, who gave him his first break in acting in her TV soap Pavitra Rishta. He got his Bollywood break in Abhishek Kapoor's Kai Po Che. He has finished shooting for Raj Kumar Hirani's P.K. Now he is shooting for Dibakar Banerjee's Detective Byomkesh Bakshi, produced by YRF and is slated to shoot for Shekhar Kapoor's Paani.
Sushant gives us an insight into how from being a nobody, he is one of the most successful young actors today:
It's precisely out of love that I gave up my very promising career in engineering and ended up here in Bollywood. I am giving the rest of my life to it, so I better be serious and the reason for me to keep going better be love.
I believe that, no matter how insanely big the dream is, if one advances confidently in the direction of it and endeavors to live the life he has imagined, he would meet a success unexpected in commoners. And the other lesson for me is to learn not to be so careful. Initially it was because I felt I didn't belong and I used to get very uncomfortable. I am not much of a smooth talker. I keep my cellphone off for months when I am shooting for a film, so now people have stopped calling me to events and parties.
There are so many things the people outside don't know about us actors. I want to mention a few… I guess actors are very brave. It takes a lot to expose your inner emotions (which may, at times, even be embarrassing, personal emotions too) in front of the camera and a group of strangers. Actors are also insecure and clueless about it. Most of the time, they are not sure what exactly it is they doing right to be where they are. Lastly, what most people don't know about actors is that we are extremely ambitious. The quality of dreaming very big with absolute certainty, more often than not, is inherent in most actors.
There were times in my high school when I would allow myself to think what would it be like if I chose to be an actor (or a hero, to be more precise) but it was always short-lived, because of the strong inertia of making it big academically, that was always there, if you belong to a low middle class family as I was. It took me a lot of effort to get into a premier engineering college, secretly discovering my calling in theatre and professional dancing (the family didn't have a clue) in order to bring myself to decide to take the final plunge. My family got the shock of their lives but they finally supported me unconditionally.
The best thing about acting is enjoying the art and to understand the experiences you had had in your lives in a completely different manner… It's magical… And the privileges this career brings you – all the fame, money and stuff, well, it's overwhelming. The worst thing about the film industry is that unintentionally it cultivates greed and envy. You constantly have to make plans to be ahead at your game, and life is what happens when you are busy making these plans.
I don't miss having a godfather in Bollywood because honestly, till now I didn't have to face a situation where I would wish that. I could call everyone from Mr Aditya Chopra, Mr Shekhar Kapur, Mr Dibakar Banerjee, Mr Rajkumar Hirani, to Mr Maneesh Sharma and Mr Abhishek Kapoor – my Godfathers. People who have given me some of my biggest breaks in life are Shiamak Davar for liberating me of my stage fright and giving me the first chance to have a rendezvous with Bollywood, Ekta Kapoor for telling me that I could make it BIG here and giving me my first break in TV, casting director Mukesh Chabra and Gattu (Abhishek Kapoor) for Kai Po Che.
I remember my first day of shoot in Kai Po Che very vividly, I was extremely nervous because I had heard 'TV actors can't make it to films' so many times in my life that I was wondering what if it actually was true. The scene was my character Ishaan who was talking to a bunch of cricket enthusiasts. I stuck to the basics and I heard Gattu saying 'Okay' with a smile immediately after the first take. I felt so relieved!
Ankita, without an iota of doubt, is the most special person in my life. It's so strange that I didn't have to plan and work hard for the best gift I have in my life. The only thing what makes me believe that the popular belief in destiny might actually be true… My normal day is a simple one. I watch many films everyday, read a lot, spend time with Ankita, meetings, narrations, preparation for the next film and video games. I love them!
I want to say this to young, aspiring actors looking for a break in Bollywood… Nothing – absolutely nothing – beats passion! Dream BIG, back it up with massive preparation and undying belief and be always aware of the first reason you wanted to be an actor.